Calaveras County: LOCATION
Calaveras County is situated in the beautiful Sierra Nevada Foothills in California's historic Gold Country region. According to a USDA study, Calaveras ranks 14th nationally for scenic beauty and climate. Drive times from gateway cities and major destinations are: San Francisco 2.5 hours; Sacramento 1.5 hours; Lake Tahoe 2.5 hours; Yosemite 2.5 hours. The county includes two important highways: Highway 49 which runs north to south and is the oldest highway in the western United States, formed in honor of the California Gold Rush which officially began in 1849. Highway 4, which runs east to west in the southern end of the county, becomes the Ebbetts Pass National Scenic Byway in Arnold, affording spectacular views of the Sierra Nevada mountains, glacially carved valleys and canyons, ancient volcanic peaks, rugged granite snow-capped ridges, and includes the Calaveras Big Trees State Park. It is one of only seven scenic byways in California and 150 nationwide.
---
Calaveras County: DESCRIPTION
Ranging in altitude from close to sea level in the foothills to more than 8,000 feet at the Sierra crest, Calaveras boasts such diverse geological landscapes that it's possible to ski in the morning and play a round of golf in the afternoon. Historic Gold Rush towns, with charming period architecture, each with its own distinct character, can be found throughout the county.
The county's geography includes beautiful landmarks, rolling hills, and giant valleys. It contains three of the state's seven show caves that are national destinations for tourists from across the country. With outstanding mountain sports recreation, friendly locals, abundant history, a thriving wine industry, year-round music and performing arts, and a passion for excellent cuisine, Calaveras County offers the authentic California experience with multiple opportunities for high adrenaline adventure and laid-back entertainment.
---
Calaveras County: HISTORY
Evidence of the millennia-long settlement of native Miwok in the county can be found in multiple places throughout the county In the form of grinding or mortar holes, burial practices, rock art and spear heads.
Calaveras County was one of the original counties of the state of California, created in 1850 at the time of admission to the Union. Parts of the county's territory were reassigned to Amador County in 1854 and to Alpine County in 1864.
Early tourist attractions in the county included Calaveras Big Trees State Park (Murphys Historic Hotel was built to accommodate the tourism business the trees generated in the mid-1800s) and California Cavern, State Historic Landmark, which was discovered by a mining prospector in 1849 or 1850. Early tourists included Samuel Clemens and John Muir, who wrote about his visit in lyrical detail in his 1888 book: The Mountains of California.
Gold prospecting in Calaveras County began in late 1848 with a camp founded by Henry and George Angel. The brothers first arrived in California as soldiers, serving under Colonel Frémont during the Mexican War. After the war's end, the brothers found themselves in Monterey where they heard of the fabulous finds in the gold fields. They joined the Carson-Robinson party of prospectors and set out for the mines. The company parted ways upon reaching what later became known as Angels Creek. The brothers tried placer mining but soon opened a trading post. By the end of the year, over one hundred tents were scattered about the creek and the settlement was referred to as Angels Trading Post, later shortened to Angels Camp.
---
Calaveras County: PRINCIPAL TOWNS
Angels Camp
The "real" City of Angels is also well known as Angels Camp. It is perfectly situated at about 1,400 feet elevation, which keeps it above the valley fog and below most of the winter snow. The summers are resplendent with blue skies and warm weather. Angels Camp is named after Henry Angel, a shopkeeper from Rhode Island, who opened a trading post here in 1848—a short time before placer gold was discovered. During the first few years after the discovery of gold, as many as 4,000 miners worked the surface gold of Angels.
In 1864, Samuel Clemens wrote his first successful short story, "The Celebrated Jumping Frog of Calaveras County" based on a tall tale he was told at the Angels Hotel by local, colorful character, Jim Smiley (or so the legend goes). The story launched his career as Mark Twain, the foremost storyteller in America and put Calaveras on the map. In 1928 a celebration of sorts, commemorating this famous story, began in Angels Camp and it eventually merged with the county fair in the 1930s. Nowadays the four-day festival with frog jumping heats each day, attracts upwards of 50,000 people a year, and is the largest event in Calaveras County and the longest running county fair in California.
The town has kept the allure of the Gold Rush era alive with many of the 19th century buildings housing great eateries and unique shops in the charming historic downtown. Angels Camp is home to popular Greenhorn Creek Resort, Wyndham by Worldmark and the headquarters of international whitewater rafting company, O.A.R.S. Additionally it is home to one of the largest bodies of water in California, New Melones Lake. Besides its scenic beauty, the lake offers uncongested water sports including boating, water skiing and fishing plus great camping sites, ranger-led hikes and interpretive programs, hiking and biking trails even during serious drought years. The annual Mark Twain Wild West Festival in October brings history alive in a fun and entertaining day of live music, historic re-enactors, a Gold Rush tent town, and local craft retailers.
Murphys
Nationally recognized as the "Queen of the Sierra," Murphys is a picturesque and charming Gold Rush era town. Murphys has been recognized as one of the Top 10 coolest small towns in America by Budget Travel Magazine and as one of the Top 10 of Forbes' Bucket List Travel: The 15 Best U.S. Destinations for 2021.  Murphys is one of the must-see places to visit this year. The town is a mix of quaint historic structures and refurbished newer buildings in keeping with the Gold Rush architecture. Boutique shops of specialty retail are blended with many outstanding restaurants and more than 23 wine tasting rooms for a vibrant downtown. Be sure to check out the history of the town and the origins of many historic structures including the Historic Murphys Hotel where President Ulysses S. Grant once stayed.
Murphys Community Park is situated just a short walk from historic Main Street and offers a nostalgic step back in time. With its pretty gazebo (the site for many weddings), community sponsored children's playground, many picnic tables under shady oak trees and a picturesque creek running through one end of the park, it truly is a piece of Americana. Here you will often find children playing in the water or fishing a little upstream, and splashing with happy dogs that are welcome to enjoy the creek. Free music plays on the first Friday of the month throughout the summer, and local musicians often meet in the evenings to jam. It's also the venue for the very popular Calaveras Grape Stomp.
Ironstone Vineyards is the largest business in Murphys. The Kautz family created and operates one of the finest winery, tourist and entertainment venues emblematic of California's original wine country. The attractions are many including: state-of-the-art wine production, ageing caverns, tasting room and gourmet delicatessen featuring the monumental 42-foot stone fireplace and historic oak bar, music room with the restored Alhambra Theatre Pipe Organ, and culinary exhibition center for community banquets and events. The heritage museum and jewelry shop showcase fine jewelry and objects d'art, intertwined with a collection of Gold Rush treasures. The museum is the spectacular setting for the magnificent forty-four pound crystalline gold leaf nugget—the largest in the world. All around Ironstone are beautiful landscaped grounds with several park settings, picnic areas, a duck lake for casual strolling or solitary pondering. Topping off this wonderful treasure is the fabulous Outdoor Amphitheatre, which can accommodate 6,000 guests. Many nationally recognized entertainment artists have adorned its stage such as Willie Nelson, Boz Skaggs, BB King, Stone Temple Pilates, The B-52s, and many more. Ironstone Winery also sponsors the Concours d'Elegance one of the finest classic car shows of its kind.
Arnold
Located at 4,000 feet in elevation, Arnold is the western end of the Ebbetts Pass National Scenic Byway and features breathtaking scenery of the Stanislaus National Forest. It offers a wide variety of outdoor activities including hiking, bicycling, off-road adventures, golf, fishing, and first-rate winter recreation. It is home to fine dining, historic lodging and unique boutique shopping. The region also stages free live music concerts throughout the summer, and arts and crafts festivals. The town is also home to Calaveras Big Trees State Park, which lies just a few miles outside of the downtown. Here, giant sequoias were first discovered in 1852 to the general amazement of everyone, who couldn't believe trees could grow to be so large, or so old. The park is open year round and features spectacular trail systems, and a beautiful visitors center featuring a gift shop and exhibits teaching the history of the Calaveras Big Trees.
Located at the snow line, Arnold receives snow every winter, and shows great seasonal variety in climate, flora and fauna. Its close proximity to Bear Valley Mountain ski resort makes it a popular snow sports destination and many charming vacation rentals are available throughout the year.
Nearby White Pines (not technically Arnold) features a beautiful mountain lake with sandy beaches, picnic tables, a children's playground, basketball and tennis courts, and lots of opportunity for boating, swimming and fishing. The Sierra Nevada Logging Museum is situated at one end of the lake and gives a fascinating look into the history of logging that was so important in the Sierra Nevada Mountains for many decades. Creative exhibits bring this history to life and honor those who lost their lives in the industry. It is also the site of one of the trail-heads to the Arnold Rim Trail, a unique trail system at mid-elevation in the central Sierra Nevada Mountains. A non-motorized trail system designed for hikers, mountain bikers and equestrians, it connects the many wonders of public lands along the Ebbetts Pass National Scenic Byway stretch of Hwy 4 to its communities, creating a high level of access for residents and visitors. You'll discover breathtaking vistas with panoramic views stretching from Mt. Diablo in the East Bay Area to snowy Mt. Lyell on the high eastern slopes of the Sierras near Yosemite, then dive down into canyons with streams coursing through the shade of older growth forests of cedar, pine, fir and oak. High rocky promontories, native acorn grinding rocks, a magnificent waterfall, many birds and wildlife of all kinds, and a lake lie along its current completed section in the part of the Stanislaus National Forest known as the Interface.
Mokelumne Hill
Mokelumne Hill, which sits on the edge of the beautiful Mokelumne River Canyon, with an elevation ranging from 1200 to 1700 feet, is commonly referred to as "Moke Hill" by locals. Well-preserved historical architecture, narrow streets, and its small size, all contribute to the town's charm. It takes its name from the Mokelumne River, which in turn is Miwok for the "people of Mokel," the likely name of a Native American Miwok village in the area. Mokelumne Hill was one of the richest gold mining towns in California. Founded in 1848 by a group of Oregonians, the gold digs were so rich that the miners risked starvation rather than head to Stockton to replenish their supplies (one finally did and made it rich by becoming a merchant). Soon after, gold was also discovered in the nearby hills, so much so that miners were restricted to claims of 16 square feet, and yet many of those claims were reported to have paid up to $20,000. 
Today, the charming Hotel Léger is the center of the community, offering year-round events and activities, a writer's retreat and maybe even a haunting or two. Ghost hunting kits are available from the front desk for those who dare to use them. And who might be haunting the hotel besides the original owner, George Léger? Ancestors of current locals are reputed to have played cards in the saloon with the infamous outlaws, Black Bart and Joaquin Murieta. The present hotel is actually three separate buildings, one of which served as the Calaveras County Courthouse from 1855 to 1866 and housed the county jail in the basement.
San Andreas
As the County seat, San Andreas is the center of commerce, education and services for Calaveras County. The Calaveras County Government Center, a number of public agencies and Mark Twain St. Joseph's Hospital are located in the center of the town. The town also boasts a small, delightful historic district that captures the charm of earlier eras and houses the Calaveras County Archives and Calaveras County Museum Complex.
Despite its name, San Andreas has no connection to the famous earthquake fault line. It was, in fact, named after San Andrés, the patron saint of Spain. Mexicans first discovered gold here, and by the early 1850s between 1,000 and 1,500 miners were working the gullies and washes. In 1854 extensive placer deposits were discovered in an old riverbed 150 feet below the surface of the earth. Lack of water was a problem, but the Table Mountain Water Company was formed to bring water from 50 miles away. Today most of these historic water ditches still grace the countryside, and many are still in use.
Nearby, in Mountain Ranch, California Cavern State Historic Landmark, was the state's first show cave. Today you can explore passages and chambers on a fascinating walk tour, detailing the social history of the cave which included secret political meetings, a hideout for Black Bart, wedding ceremonies and one of the most unusual liquor bar locations. Despite the heavy use of Gold Rush era entrepreneurs, the cave still contains some pristine areas, heavily decorated by beautiful speleothems, most notably the Jungle Room, which was rediscovered in 1980 after being closed for its protection many decades earlier. Extended wild cave expeditions take visitors far beyond the walking tour areas of the cave, to climb, crawl and slither through deep recesses of mud, underground lakes, ravines decorated overhead with sparkling, crystalline formations.
Copperopolis
Embracing its proud heritage and cherished way of life as a once thriving 1800's copper mining town, The Square at Copper Valley has been reborn as an all new blend of specialty boutique shops, great restaurants and residential lofts, and brand-new in 2021, the elegant Gateway Hotel. Designed around a traditional, pedestrian-friendly town square, the timeless architecture and covered walkways harken back to another era, yet provide all the luxury and convenience of a modern retail setting. Multiple fun festivals and events occur here throughout the year, including free concerts in the park, bike races, the Hot Copper Car Show, and art and jazz festivals.
Copperopolis is also home to beautiful Lake Tulloch, offering fishing, boating and water sports opportunities year-round, and The Golf Club at Copper Valley – an 18-hole championship, public-access golf course.
Valley Springs
Located at 680 feet in elevation, Valley Springs is ringed by three lakes offering an abundance of water sports recreation. Fishing, kayaking, water-skiing and sailing are just a few of the sports offered at one or more of the three lakes: Camanche, New Hogan and Pardee. An expansive network of bicycle and hiking trails meander along the three lakes and beautiful rolling hills. Golf at the scenic La Contenta golf course, diverse shopping and fine restaurants add to the appeal for residents and tourists alike.
---
Calaveras County: TRANSPORTATION
Public Transportation
Calaveras Connect operates public buses throughout the county, serving all towns, including transportation to and from Stockton using the Delta Gold Line on weekdays and transportation on the Saturday Hopper on weekends.
Private Transportation
Mother Lode Adventures Charter Services | Stagecoach Limousine | Murphys Taxi Service | 
---
Calaveras County: WEATHER / SEASONS
Calaveras County's seasons are distinctively different, offering dramatic seasonal changes including snow in the higher elevations in winter, beautiful spring flowers though the foothills and High Sierra, and warm summers conducive to outdoor concerts and dining, and beautiful fall colors perfect for leaf peepers! The Calaveras County climate is considered to be warm Mediterranean. Check out our four seasons of itineraries: Calaveras SPRING Itineraries | Calaveras SUMMER Itineraries | Calaveras FALL Itineraries | Calaveras WINTER Itineraries
---
---
Calaveras County: HISTORIC SITES & MUSEUMS
With 42 California Historical Landmarks, Calaveras County is second only to San Francisco in its number of historical sites. This large number reflects not only the significant history of the county, but also the dedication of locals in preserving that history. Museums include:
Angels Camp Museum & Carriage House | Calaveras County Museum Complex | Sierra Nevada Logging Museum | Calaveras Big Trees Visitor Center | Ironstone Heritage Museum | New Melones Visitors Center | The Altaville School | The Red Barn Museum | Moaning Cavern Visitors Center | California Cavern Visitors Center
---
Calaveras County: FAIRS & FESTIVALS
Calaveras features multiple events and festivals year-round. Our most famous event is the Calaveras County Fair & Jumping Frog Jubilee held in Angels Camp which takes place on the third weekend in May and commemorates Mark Twain's famous story: The Celebrated Jumping Frog of Calaveras County. Other and festivals include:
Murphys Irish Day, March | Hot Copper Car Show, May | Ironstone Summer Concert Series, June –September | Sierra Nevada Logging Jamboree, August | Calaveras Grape Stomp, first weekend, October | Mark Twain Wild West Fest, October | West Point Lumberjack Day, first weekend in October | 
---
Calaveras County: RECREATION AREAS
Stanislaus National Forest | New Melones Lake Recreation Area | Bear Valley Mountain | Moaning Cavern Adventure Park | Blue Mountain Region | Lake Camanche | New Hogan Lake | Lake Tulloch | Calaveras Big Trees State Park
---
Calaveras County: CALIFORNIA STATE PARKS
At Calaveras Big Trees State Park, you can see the largest living things on earth: Giant Sequoia Trees. They can grow to be over 300-ft tall and 56-ft wide. and live to over 3500 years. Cones from Giant Sequoias require heat from forest fires to open so the seeds can be released. The first grove of giant sequoias was discovered here in 1852 by Augustus T. Dowd.
Calaveras Big Trees State Park is beautiful year-round. In the spring, the dogwoods bloom, and the park is hopping with wildlife activity. Look out for cute little Douglas squirrels that chatter at you from the trees. Take the Three Senses Trail with your eyes closed using guide ropes to really experience the smells and sounds of the forest. Interpretive panels in English and Braille tell you how to fully immerse yourself in the experience.
In summer, the park is the perfect place to cool off among the fragrant incense cedars and majestic giant sequoias. To cool off even more, take a dip in the refreshing Stanislaus River along the South Grove trail. Don't forget you can camp here too and take guided North Grove hikes daily to learn more about this fascinating environment. Enjoy campfire programs, Creek Critters, Junior Rangers and Junior Cubs activities.
Autumn brings cooler temperatures and fall colors from spectacular displays of dogwoods. Who says you can't enjoy fall colors in California? In winter, the park is truly spectacular. Take a guided hike through the North Grove in snowshoes to see the forest at its most magnificent (the park will loan you snowshoes if you're among the first to arrive for a Saturday tour). Finish up with a hot cocoa in the warming hut. You'll be glad you did!
---
Calaveras County: THEATER
Murphys Creek Theatre – Murphys Creek Theatre offers contemporary plays at the Black Bart Playhouse just outside historic downtown Murphys.
Shakespeare On the Vine – offers Shakespeare plays under the stars at Brice Station Vineyards in a beautiful mountain setting in Murphys.
Angels Camp Theater – Built in 1924, as the Mother Lode Cinema, Angels 6 Theatres was originally opened during the silent film era, featuring piano accompaniment to movies with title cards. Angels 6 Theatres is located in historic downtown Angels Cam and the perfect place to top off your Calaveras experience with the latest movies in this art-deco style building with its 6 screens. Small town friendliness, delicious popcorn, comfy high back loveseats with flip up armrests and quaint downtown atmosphere all contribute to make this a fun place to enjoy a movie and a favorite with locals.
---
Calaveras County: GOLD PANNING
Gold panning excursions in local streams and rivers: Gold Rush Originals in Angels Camp- www.goldrushoriginals.com 209-736-0044.
Gold panning is also available in flume systems at Angels Camp Museum, Ironstone Vineyards, Moaning Cavern, Mercer Caverns, California Cavern.
---
Calaveras County: WINERIES & BREWERIES
Calaveras County falls in the Sierra Foothills appellation, specializing in Rhone, Italian and Spanish varietals. The Calaveras Winegrape Alliance lists 22 wineries as members and there are currently 23 wine tasting rooms in charming, historic downtown Murphys. Vineyard tours are also available throughout the county at individual wineries. For listings, visit www.calaveraswines.org
The largest winery in the county is Ironstone Vineyards, which features spectacularly manicured grounds, a deli and tasting room, a restaurant, a Heritage Museum containing the largest crystalline golf leaf nugget ever found (weighing in at a massive 42lbs), and conference rooms. Our quirkiest winery has to be Twisted Oak, whose mascot is a rubber chicken. Driving into their winery takes you through their tongue-in-cheek Rubber Chicken National Forest complete with rubber chickens hanging from trees and amusing road signs.
Snowshoe Brewing Company has created award winning ales throughout Central California and the Sierras. Based in Arnold, at their restaurant, brewpub, they feature five brews always on tap plus seasonal and specialty beers.  According to its website, Hinterhaus Distilling "is named in honor of the hinterland at our doorstep – the vast Sierra Nevada wilderness that has long beckoned explorers and adventurers to our neck of the mountain range. Tucked into the back of the Arnold Shopping Plaza, we craft our spirits beneath the long shadows and rustling needles of cedar, sequoia and pine trees. We distill using fresh mountain water that flows just beyond our doors, and we age and bottle our spirits at our 4000 ft. perch above sea level. We raise a glass to those who carve their own path."
---
Calaveras County: WINE EVENTS / ASSETS
For details on all wine events visit the Calaveras Winegrape Alliance's website. For a full list of Calaveras County's many award-winning wineries, vineyards and tasting rooms, visit the Calaveras wine country listings.
Calaveras Grape Stomp & Gold Rush Street Faire – October
Produced by the Calaveras Winegrape Alliance, the Calaveras Grape Stomp, held in conjunction with the Gold Rush Street Faire, is a unique, fun-filled day for the whole family. Proceeds from the Calaveras Grape Stomp support local community groups. Teams of two, a Swabber (sometimes called a Mucker) and a Stomper compete to stomp the most juice out of measured amounts of wine grapes to move on to the next heat and win fabulous prizes. An experienced panel of experts precisely weighs the juice, and prizes are awarded to all the winners. There are special prizes for the top finishers in the Championship Stomp Teams are encouraged to appear in costume (like we could prevent it anyway) and prizes are awarded for costumes based on originality, design, and effort.
But there's more to the Grape Stomp than just the wanton destruction of two tons of perfectly good fruit. Score some key bargains on Calaveras Wines, ski packages at Bear Valley, and other great items at the silent auction. Or, at the call auction get amazing wine experiences at some of Calaveras' award-winning wineries, featuring fabulous gourmet dinners, vineyard tours, and a chance to rub shoulders with some of the leading winemakers in the Sierra Foothills.
Murphys Open House & Holiday Festival of Wines – December
Calaveras wineries are showcased during the annual Holiday Festival of Wines taking place 11 am to 5 pm at all Calaveras Winegrape Alliance member wineries. The Festival of Wines offers "get-into-the-mood" holiday music, culinary delights and award-winning Calaveras wines.
Historic downtown Murphys celebrates the holiday season with a community Open House from 5 to 8 pm and admission is free. The Open House is a great time to peruse Murphys' wonderful shops and restaurants, see what's new, watch the parade at 7pm, visit with old friends, admire the community tree, and experience an old-time community holiday spirit where musicians and carolers fill the streets with holiday cheer. A favorite of locals, the annual event is an old-fashioned community celebration featuring holiday treats, and local wines hosted by Main Street merchants.
---
Calaveras County: WEDDINGS
From rustic 19th century farmhouses and hotels to modern wineries and hilltop villas, Calaveras County has a wide array of beautiful wedding venues. Start at the Calaveras Visitors Bureau website to find many of Calaveras' perfect wedding venues, caterers, florists, photographers and other essential service providers.
---
Calaveras County: SCENIC DRIVES
Historic Main Street Highway 49, Angels Camp, CA –
historichwy49.com
---
Calaveras County: GOLF COURSES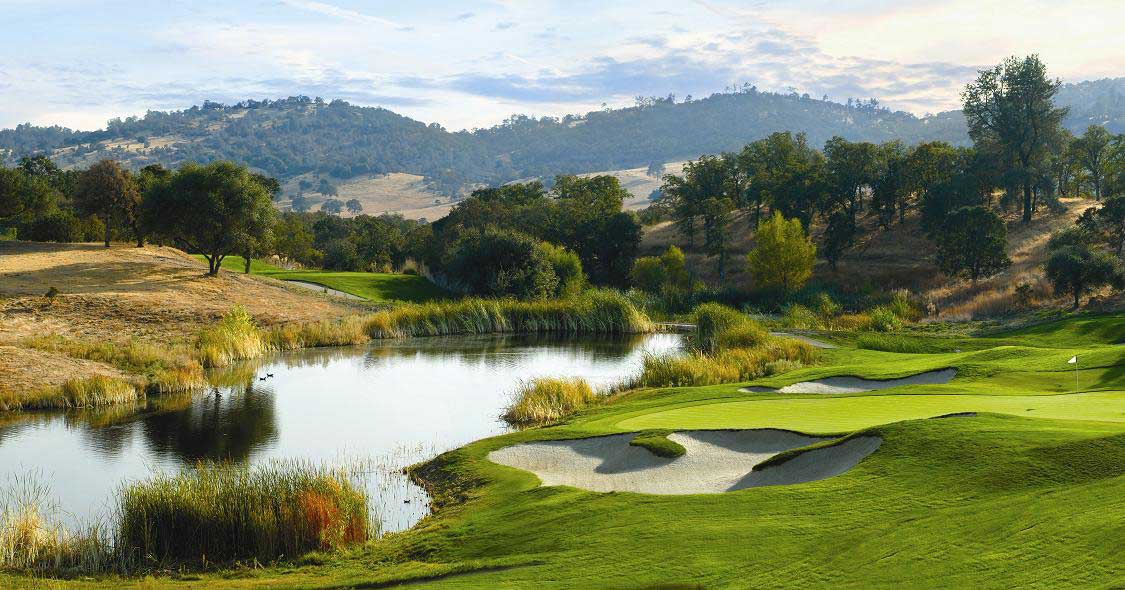 The Golf Club at Copper Valley
The Golf Club at Copper Valley in Copperopolis is truly a golf resort for players and couples of all levels and open to the public. The golf resort features 18 scenic holes and is ranked 8th by Golf Week Magazine for Best Public Access Courses in California. Accommodations for The Golf Club at Copper Valley guests feature luxurious bungalows that are within a few paces of both the golf course and lodge. Each bungalow is expertly appointed with detail you would expect at a world-class resort. Accommodations include one bedroom suites and two bedroom suites, each with a full kitchen and living room. All within a minute's walk of Vine 18 — a culinary destination of Calaveras County.
The Golf Club at Copper Valley is a favorite home for corporate retreats from 12 to 40 participants, retreats and golf vacations for families or couples. All amenities are within walking distance and surrounded by the beauty and serenity of the Sierra Foothills. Nearby Lake Tulloch offers fishing and boating activities that are only minutes from the resort.
Greenhorn Creek Resort
Robert Trent Jones, Jr. re-designed Greenhorn Creek's 18-hole championship golf course to take full advantage of the historic landscape. The course wanders throughout the rolling foothills and 100-year old oak trees, and features ancient structures, underground diggings and artifacts of that golden era. With award winning holes and numerous accolades, including being named one of California's top ten golf courses in California Magazine in 2015, Greenhorn Creeks is a must play.  Guests of Greenhorn Creek can enjoy on-site Greenhorn Creek Vacation Cottages, including the unique five-bedroom Caddy Shack plus the award-winning CAMPS Restaurant, Greenhorn Creek is the perfect locale for a golf getaway!
  Sequoia Woods Country Club
Sequoia Woods Country Club in Arnold is a challenging 18-hole course in a beautiful mountain setting. Nestled in the western Sierra Nevada at a 4,000-foot elevation, this course makes dramatic use of the local terrain, combining the natural meadows and slopes of the first nine holes with the narrowed, pine tree-lined fairways of the second nine. The resulting course brings golfers challenging play and fabulous views.
La Contenta Golf Club
This beautiful course in Valley Springs is shaded by large oak trees and depending on the time of year, you may see wild turkey and deer. Designed by Richard Bigler, the La Contenta course features a blend of meadow/valley fairways and rolling terrain highlighted by the dramatic drop of the signature 13th hole.
Forest Meadows Golf Course
When you come play the Forest Meadows Golf Course, you will enjoy some of the best golf in Murphys, CA. This Robert Trent Jones, Jr. golf course offers golfers of all abilities a day they will not soon forget, with fairways set deep in the quiet of giant pines, great oaks, and towering cedars, as well as some that play across High Meadowland. Whether you are aiming to improve your game, or simply indulge in a day of Murphys golf, our course is excellent for you. Our idyllic settings will let you step away from life for a little while and focus on your golf passion. You will be able to test your skill set with our long fairways, multiple water hazards and strategically placed sand traps. 
---
Calaveras County: WINTER SPORTS
Bear Valley Mountain offers downhill skiing and snowboarding, full rentals and lesson packages, as well as guided tours into the side country for those seeking a fresh powder experience.
Bear Valley Snowmobile rents snowmobiles for the day or the week and provides access to groomed trails in the Stanislaus National Forest.
Bear Valley Cross Country & Adventure Company offers over 3000 acres of world class cross country skiing, snowshoeing, fat tire snow biking, sledding and tubing on their trails. All equipment is available for rent from their general store and gear shop in Bear Valley.