Kid's Caving Expedition
Probably one of the absolute coolest adventures your kids will never forget, is the Mammoth Cave Expedition at California Cavern. Available for ages 8 and up, the trip takes you and your kids on a thrilling wild cave exploration with only cave helmet lights to light the way. Climb, crawl and squirm through this fascinating and deliciously cool environment (approximately 57°F or 14°C) over 2 hours and you'll be tapping into your inner kid too. One caveat… you must be the kind of parent who loves playing in the mud and is not claustrophobic. Reservations are required. Call 866-762-2837. All equipment is provided and no experience is necessary. Be sure to bring a change of clothes for after your muddy adventure.
Here's the full scope of what our three show caves in Calaveras offer:
Underground: 60-80 minute guided walk tour (ages 4 and up) | 4-hour Middle Earth Expedition (ages 16 and up) reservations required | 2-hour Mammoth Cave Expedition (ages 8 and up) reservations required
Above ground: Gemstone mining flumes | Visitor Center with cave bear skeleton & Gift Shop | Volleyball court | Picnic tables
Eats: The Pickle Patch Deli is a local favorite for lunch, and a few doors down El Mezcal will take care of your Mexican food cravings.
Underground: 45-minute guided walk tour (ages 4 and up)
Above ground: Gemstone mining flumes | Visitor Center & Gift Shop
Eats: Magnolia Café serves up hearty all-day breakfast and lunch, try the Filipino Breakfast Bowl or Citrus Salad. Down on Main Street, Firewood has tasty burgers, fish tacos and wood-fired pizza. For sweet treats, hit Aria Bakery or downtown's newest addition – Joma's Artisan Ice Cream.
Nearby: See the largest crystalline gold leaf specimen ever found at Ironstone Vineyard's Heritage Museum. Splash and play in the creek at Murphys Community Park.
Lodging: Murphys Suites has lots of parking and is an easy walk from town, and its sister Murphys Inn Motel has a pool.
Underground: 45-minute guided walk tour (ages 4 and up) | 165-foot rope rappel (ages 12 and up) | 2-hour Adventure Trip (ages 12 and up)
Above ground: 1500-ft (457-meter) twin zip lines – kids 70 lbs (31.5 kg) plus can zip by themselves, those under 70 lbs can zip tandem with a parent for a maximum combined weight of 270 lbs (122 kg) | 32-foot (10-meter) climbing tower ages 2 and up | Cuddles the cockatoo | Visitors Center & Gift Shop | Picnic tables | Gemstone mining flumes
Eats: Cascabel in downtown Angels Camp serves delicious Mexican food from secret family recipes, or grab fresh baked treats at Sugar Bakery. For dinner you can't go wrong with grass fed burgers at CAMPS Restaurant, overlooking Greenhorn Creek Golf Course, and be sure to stop in at Angels Camp's newest downtown addition: Yummy Ha! Ha! artisanal ice cream. If you're in the mood for pizza, Mike's Pizza is a local favorite and has great gluten free options too
Lodging: Several easy, centrally located options to choose from, including Travelodge, Best Western and Gold Country Inn Motel.
For a head careening, jaw dropping stroll through a magical ancient forest, Big Trees should be on the top of the list.   Located a few miles east of Arnold at about 5000 feet, the park is home to two groves of giant sequoias that have been reaching skyward for at least 2000 years.  At the entrance to the park's North Grove you'll find the new visitor center with excellent interpretive displays of the wildlife and history of the surrounding forest, short films and a well stocked gift shop.  Weekends are even sweeter – with ice cream and popcorn available at the park's warming hut, every weekend and holiday through the second weekend in September.   The park's campgrounds are open through November, and while reservations book up early for summertime use, last minute cancellations just might be your diamond in the rough – and a another unique treat for the family.  Check availability here.
Eats: Bistro Espresso serves grab and go breakfast burritos, gourmet coffees and yummy pastries, Snowshoe Brewery has a full menu of kid friendly pub grub, or try Sarafina's for family style Italian.
Other Lodging for Arnold and beyond: Arnold Meadowmont Lodge or Timberline Lodge.
This little gem just outside the town of Arnold is a perfect spot to take the kids on a hot day, with a shaded picnic area and extensive play structure, as well as a nice sunny beach and shallow wading area. Need to rent kayaks or paddleboards? Head over to SNAC and they'll fix you up. Be sure to load up on picnic supplies at Big Trees Market in Arnold before heading out.  Make it a day long outing with a hike or bike ride on the nearby Arnold Rim Trail and a visit to the fabulous Sierra Nevada Logging Museum, just a short walk from the lakeshore.
Eats: Very close to White Pines, Giant Burger makes your burger fresh while you wait and offers a large selection of yummy shakes and malts. Just across Highway 4 is El Vaquero, which serves up tasty Mexican nosh at really reasonable prices.
Lodging: See recommendations for Arnold, above (Meadowmont Lodge & Timberline Lodge).
East of Arnold on Highway 4 begins the Ebbetts Pass Scenic Byway, a 61 mile stretch of road that crosses the Sierras and takes you through the stunning landscapes of the Stanislaus National Forest, as well as the Mokelumne and Carson-Iceberg Wilderness Areas.  One way locals beat the heat is to head up the pass for either a day trip seeing the sights or an overnight camp trip to one of the many lakes or National Forest campgrounds along the route.   Stock up on picnic and camp food at Big Trees Market in Arnold.
Along the granite banks of the north fork of the Stanislaus River near the town of Dorrington you'll find the Sourgrass Recreation Area and  Wa Ka Luu Hep Yoo (Wild River) Campground.  Explore the riverside trails, granite boulders and the extensive collection of mortar holes left from when the Mi-Wuk tribe used this area.  You can camp here too – there are 49 sites open to first-come first-served campers, flush toilets and showers available. There are plenty of safe little areas that can be discovered for quick dipping in the heat of the summer but be careful in the fast moving whitewater.
Eats – Stop by The Lube Room in Dorrington for tasty burgers, wraps, sandwiches and beautiful meadow views from their back porch or head into the Camp Connell general store for lunch.
When it's 100 degrees in the foothills, Bear Valley's mercury chills in the low 80s at 7000 feet. With trails for hiking and biking, lakes to paddle, rock climbing, disc golf and access to miles of National Forest, this place is an outdoor playground.  Bear Valley Summer Day Camp offers kids the opportunity to rock climb, along with many other great outdoors activities  June 13th – August 5th for 2016. If you're coming out other times in the summer, you can still sign up for entry level family rock climbing courses with Mountain Adventure Seminars, or rent bikes, kayaks and stand-up paddleboards from Bear Valley Adventure Company. And new in the village is Bear Valley Adventure Park with great kid's activities including a bungee trampoline and ropes course, open all summer Thursday – Monday beginning at 11 am.
Eats: Sky High Pizza & Pub offers fresh, seasonal ingredients on house made dough, children's menus and an uber kid-friendly atmosphere for low stress.
Lodging: Check out the summer Stay and Play packages at Bear Valley Lodge or pitch a tent on the shores of Lake Alpine (details below). Or base your mountain play at Tamarack Lodge Bed & Breakfast which boasts an indoor play area with ping pong table, free gold panning, reading room with library, kids sandpit, horseshoes and Saturday marshmallow roasts.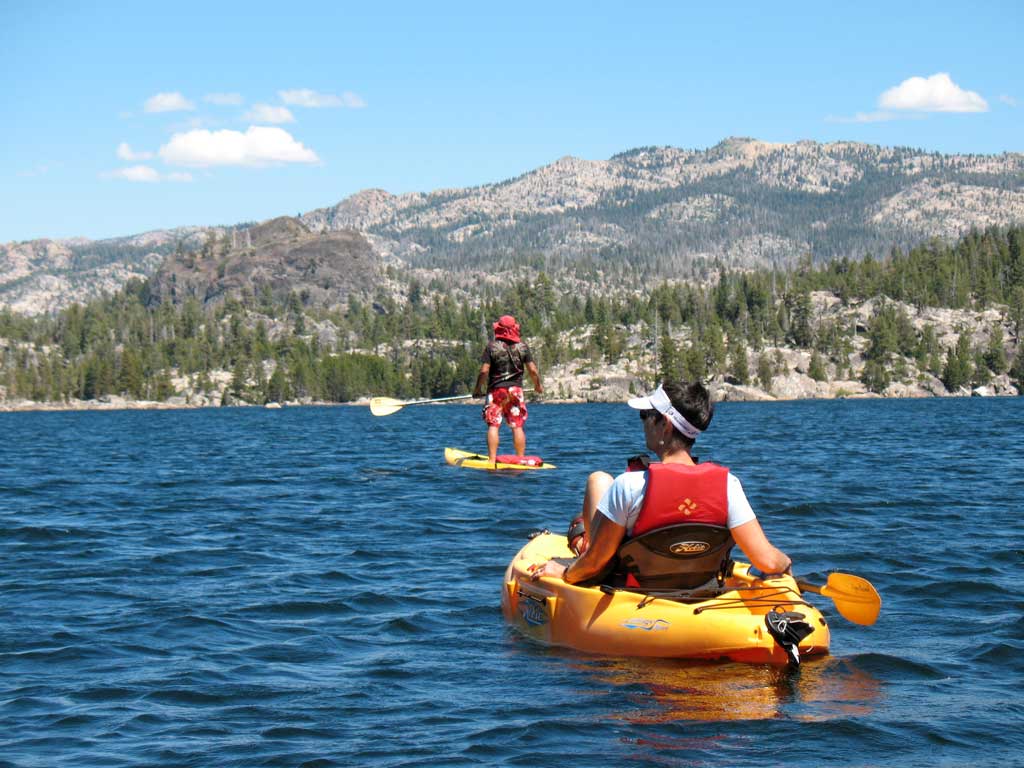 No question this is one of the most picturesque places to spend a summer day. Take the four-mile trail around the lake, much of which is wheelchair accessible or opt for a more strenuous hike to Inspiration Point, overlooking the lake and surrounding wilderness. There are four campgrounds on Lake Alpine, as well as a restaurant, bar and general store. Rent a kayak or check out the free interpretive programs by local forest rangers. Go to the Lake Alpine Resort's website for information on boat, kayak and paddle board rentals.  National Forest Information
Off-season prices are available for campsites and cottages throughout August – making this an especially affordable option right now. This family-friendly resort features a new kids fishing area and dock, Saturday Night Movies at the South Shore campgrounds, a coffee shop (North Shore), boat rentals, kayak and paddleboard rentals, hiking (with amazing wildlife views), world-class fishing, alcohol-free campsites and a convenience store. You can easily plan your whole vacation around this great resort.
Eats: Lake Camanche Resort makes it easy with their North Shore Café and ice cream parlor. For a change of pace for kids with adventurous palates, try Mongolian barbecue at Fusion Grill in nearby Valley Springs, or the highly rated Thai House Restaurant.
Get full details on things to see and do in Calaveras from our digital Acitivities Guide.