Calaveras County Fair and Jumping Frog Jubilee
One of the longest running fairs in California, this four day event draws participants from towns not only all around the country, but also all around the world. Located in the beautiful rolling foothills of California's Gold Country just outside the quaint Gold Rush town of Angels Camp, the international Calaveras County Fair and Jumping Frog Jubilee is disguised as a small town fair harkening back to a simpler era. But don't let appearances fool ya. The Calaveras County Fair and Jumping Frog Jubilee blends good ol' fashioned fun with a hearty dollop of world literary history. Held the 3rd weekend in May each year (Thursday through Sunday), the Calaveras County Fair and Jumping Frog Jubilee commemorates the story that launched Mark Twain's career, The Celebrated Jumping Frog of Calaveras County. Read on to see all the great lodging available and things to do while at the Calaveras County Fair.
1. Get Your Tickets Early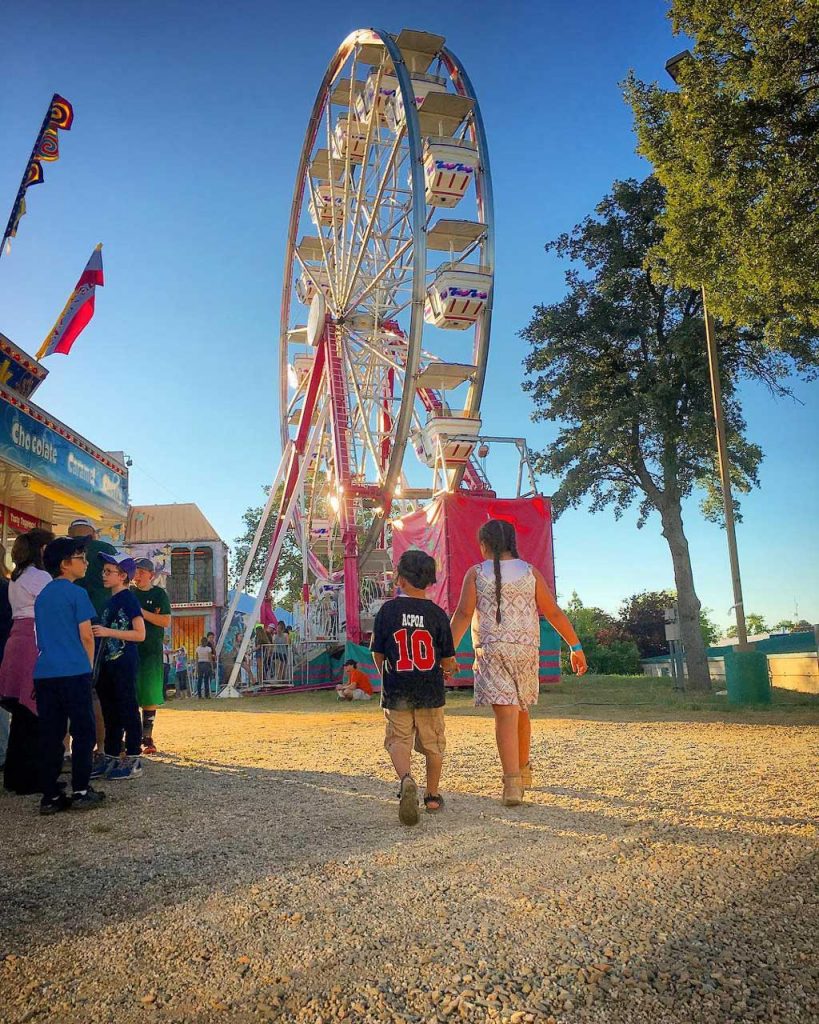 Tickets can be purchased online at www.frogtown.org. Avoid the long lines and get adult, senior, and kids one day or 4 day tickets along with your carnival ride wristbands. Parking is additional – cash at the gate – but what's great is that 100% of the funds raised from parking goes to sponsor the local, all-volunteer AMA Youth Sports Program.
2. Junior Frog Jump and Parade
The Jubilee kicks off with the Angels Camp Business Association's Jr. Frog Jump on Saturday, May 14, 2022 at 11:00 AM in Utica Park for kids through the 8th grade. The winner automatically qualifies for the finals on Sunday at 3:00 PM. Frogs are provided or bring your own – frogs must be 4 inches nose to tail. The Children's Parade is back in historic downtown Angels Camp on Thursday, May 19, 2022 at 10:00 AM. Afterwards, head over to the Fair where kids 12 and under enter for free and adults are $10 on Thursday only.
3. Jump a Frog
Frog jumping happens all four days of the Fair, and the final day features the International Frog Jump finals starting at 3:00 PM. Click here to see a list of rules and how YOU can become a Calaveras Frog Jockey!
The Jumping
Did you know you can't train a frog? That's right! It's up to contestant frog jockeys to learn what the frog needs to be able to go the distance. (Catch a sneak peak at Secrets to the Frog Jump here). Each contestant will place their frog on the starting lily pad and sing, leap, dance, whistle, stomp, yell, or blow to get their frog to begin jumping–but whatever you do, remember that in order to qualify, once your frog is on the starting lily pad, you cannot touch the frog.
Once the frog begins to jump, try to get the frog to continue moving forward in a straight line, since the final distance will be measured from the starting lily pad in a straight line to the final landing position the frog made in it's third jump. So if your frog jumps in a circle, even if it's a REALLY big circle, that would count as zero feet.
The Winning
Winners each year can expect a a cash prize, a handsome brass plaque commemorating their win embedded in historic downtown Angels Camp's Frog Hop of Fame and a commemorative trophy. When you win, the brass plaque will be engraved with your name, the name of the frog you jumped, the year and the distance of your frog's "jump". In addition, if you beat the world record (currently held by Lee Guidici whose frog Rosie the Ribiter, jumped 21-feet, 5-3/4 inches in 1986) you would not only replace Guidici as world-record holder and receive international media attention and a $5,000 cash prize, but you would also receive a brass plaque in the Frog Hop of Fame.
4. All The Extras That Make Calaveras Unique
Get the full schedule to see all there is to do during this fabulously fun and family friendly fair!
NEW this year – The Steve Collum Memorial Demo Vineyard
The Calaveras Winegrape Alliance and Calaveras County Fair have come together to plant a new, Steve Collum Demonstration Vineyard to honor an extraordinary vineyard manager and friend. Fair goers can enjoy a walk-around educational experience while viewing eight different grape varietals and two styles of vine trellising systems.
Concerts and Contests
Saddle Queen and Miss Calaveras Thursday
Local country sensation Walt Hoyt in concert Thursday night
Country singer and songwriter as well as host of the nationally syndicated and award winning music television series The Texas Music Scene, Jack Ingram in concert Friday night.
Buckaroo Events
Cowboy Round Up, Pole Bending, Barrel Racing, Goat Tying, Flag Race, Ranch Penning followed by Stick Horse Race and Coin Dig on Friday
CPPRA Rodeo
Saturday night at 7:00 PM
The Demolition Derby
This epic weekend culminates in the well loved Destruction Derby on Sunday evening which is towards the end of the last day of the fair. Be sure to bring a blanket or lawn chairs to relax with friends and family and watch the events.
5. Calaveras County Fair and Jumping Frog Jubilee – History
So how the heck did one little town in the Gold Rush come to have an International event that draws 30,000 to 50,000 visitors from all over the world? Why it all started with Mark Twain of course. Read on to learn more, or even better, visit the Angels Camp Museum just 3 miles from the Fairgrounds to see the new interactive Frog Jump History Exhibit.
The first Calaveras County Fair took place in Copperopolis in 1893 making it one of the longest continually running fairs in all of California. However, it wasn't until the early 1930's that the International Frog Jumping Jubilee merged with the Calaveras County Fair. But to learn that story, we'll have to travel back in time to the mid-1800s, during the height of the Gold Rush.
You see, during the Gold Rush there wasn't much to do in the way of familiar entertainment for the 49ers, so some of the more rowdy men would get drunk, and find anything and everything to bet on. One of the things that they sometimes bet on was who could capture a frog that would jump farther than anyone else's frog. Fast forward to Mark Twain's time in the area in the 1860s, during the tail end of the Gold Rush.
Twenty-nine years old, and still known as Samuel Clemens at the time, Mark Twain was deeply in debt (having been fired from one too many newspaper jobs), and was fleeing the Civil War in the South, staying with a friend in a cabin in Tuttletown while hoping to change his luck with pocket gold mine adventures. It was here in the Motherlode, completely immersed in the story telling culture of the gold rush, that Sam found his true calling: fiction writing. No, Samuel Clemens didn't find gold, but he did strike it rich in Angels Camp, CA, when he overheard a local bartender absolutely butchering what could have been a hilarious story about one of these informal frog jumping competitions. Samuel Clemens thought to himself, if I can recreate this story, exactly as that man told it, I am going to be famous, and the rest is history.
The story, first published in book format in 1867, later became known as The Celebrated Jumping Frog of Calaveras County. This tale from the Gold Rush launched Twain's career not only across America, but all around the world, putting Mark Twain and little old Angels Camp and Calaveras County on the international map.
After that publication, it wasn't until the celebration of the first ever road paving in Angels Camp, CA in 1928 that local residents, many of whom had personal connections to Mr. Twain, felt inspired to celebrate this seminal moment with its first, annual, international frog jumping contest to mark the auspicious occasion. This first frog jumping contest was such a hit, that two years later, the County Fair and frog jump were merged into one event and first held at their permanent home at the Calaveras County Fairgrounds in Angels Camp, CA. With a long and storied history, you too can become part of the living legend that continues to this day with an average attendance of 30,000 to 50,000 visitors throughout the four day weekend.
Extend your stay!
If you would like to make a long weekend of this historic and fun-filled festival, check out all the different lodging options in Calaveras. From camping right on the Fairground property to short term vacation rental homes, Calaveras has every option available. If you'd like help planning your trip, please feel free to give us a call at the Calaveras Visitors Center at 209-736-0049. We "hop" to see you soon!