Hygge
HEW-ga / HOO-guh
A Scandinavian word that hails from Denmark and Norway described as "a quality of coziness and comfortable conviviality that engenders a feeling of contentment or well-being"
Despite the fact that the concept of "hygge" is of Scandinavian origin, you can find a healthy dose of holiday hygge right here, hidden in plain sight in Calaveras County. For those of you who haven't yet heard of hygge, according to the Danes, it means even more than the definition above.
From slow hikes in nature with good friends, to a warm cup of coffee, fresh baked bread, snuggling with loved ones, or a penchant for natural materials; the concept of hygge conjures many associations for those in the know. However, the biggest association of them all (and the single association to easily transcend national boundaries), may just be what Americans call "Holiday Spirit."
Look closer and you may just find that hygge is a huge part of what the American holiday season is all about: intimacy, warmth, natural beauty, and indulging in the simple pleasures of life with close family and friends in cozy spaces. With an intimate appreciation of nature, family, friends, food, and wine year round, Calaveras' hidden hygge comes to the fore each fall and winter season.
Explore Calaveras' Holiday Hygge
From local Calaveras shopkeepers that offer a warm smile with a humble focus on locally made goods in a warm, playful atmosphere to hundreds of miles of gorgeous trails and natural spaces throughout the county, to hospitable wine tasting; holiday hygge can be felt throughout Calaveras year round. And while many of our visitors enjoy frequenting our hygge shops year round, there is never a more hygge-time of year to shop for your loved ones than during the peak of Calaveras holiday hygge, otherwise known as the holiday open house season.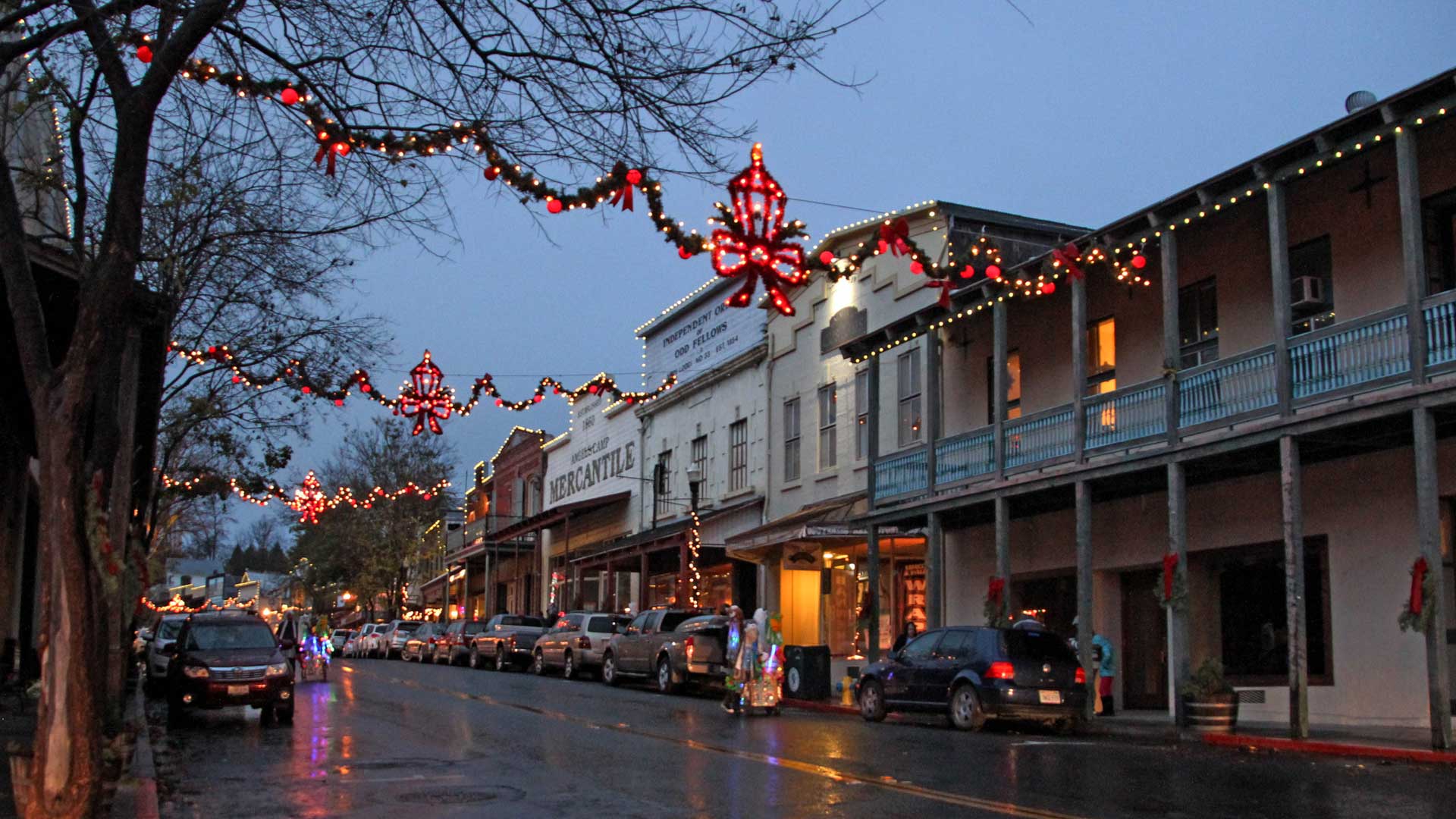 This season of holiday events falls annually between Thanksgiving and New Years Day, bringing a new level of hygge to family traditions all over the county. With a spirit of giving and generosity, from our warm and inviting historic downtown shops twinkling with Christmas lights, all the way up to the snow-lined forests and fireside lodge at the Bear Valley ski resort, enjoy warm beverages and fresh baked goods; as well as lighted parades, heartfelt discounts, and a chance to say hello to Santa and Mrs. Claus during this super hygge series of events.
While our close proximity to a ski resort does mean we have more Scandinavian residents than the average California destination, our visitors regularly inform us that locals here in Calaveras embody the heart of hygge year round. With an inviting sense of warmth and friendliness, and the willingness to lend all neighbors and visitors alike a helping hand, Calaveras natives know how to put community and the beauty of the moment first and foremost in their hearts and minds.
These hygge-like qualities are just one of the reasons we love where we work, live, and play.
So as you gear up for your holiday shopping, consider adding some holiday hygge to your shopping experience by visiting during one of our many holiday open house events, or simply enjoy the hygge available throughout the county with our destination focused holiday shopping guide, to help you and your loved ones have a more relaxing and leisurely holiday season.
Cheers to a hygge-filled holidays season!
Looking for lodging while visiting the area? See what's available, compare prices, and book your lodging here:
Happy hygge holidays!