The Arnold Rim Trail offers a wide variety of fun and interesting terrain from deep in the Stanislaus forest to epic outlooks, refreshing streams and even a hidden waterfall.
Some of the best hiking & mountain biking in the county is closer than you might realize. Hidden between Hathaway Pines and Arnold just off of Hwy. 4 you'll find the Arnold Rim Trail (ART), a 17.5 mile trail system that has been in the works since 2007. Behind unassuming neighborhoods lie a number of intriguing destinations, including San Antonio Falls, Cougar Rock and Top of the World. And it wouldn't be unusual to have these spots all to yourself most days. Below is more information about the trail, as well as how to access it and the best ways to enjoy it.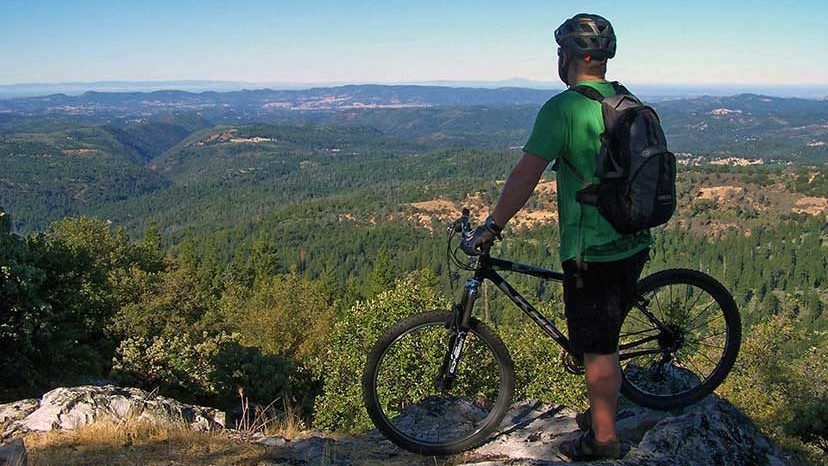 The Arnold Rim Trail: Before you go…
The Arnold Rim Trail ( or ART) is a single track trail that's nestled among an extensive fire road system. Despite being well labeled with posts (like the one pictured above), securing a map of the area is critical. It's extremely easy to get turned around. Stop by the Calaveras Ranger Station in Hathaway Pines before you go for a map, or print one online at: www.arnoldrimtrail.org.
It goes without saying that water is a must-have, but it's also a good idea to have snacks on hand even if you're only setting out for a short section of the trail.
How do I access the Arnold Rim Trail?
You've got a couple of options for hopping on the trail which can make your journey as long or short as you like.   Most people access the ART near the Sierra Nevada Logging Museum at White Pines Lake, or via Avery Sheep Ranch Road where there's a parking area approximately 2 miles down the road on the right hand side (if coming from Hwy. 4) .  If your destination is San Antonio Falls it probably makes most sense to park at White Pines, while those interested in Cougar Rock may want to park off of Avery Sheep Ranch Road. It really depends on how far you'd like to hike. Following are directions to both trailheads.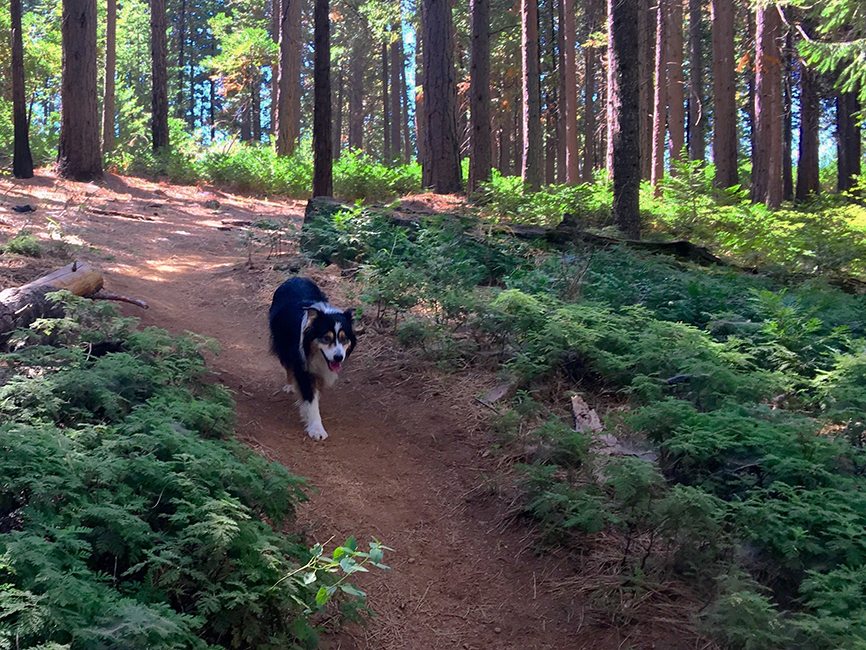 ART Trailhead: Sierra Nevada Logging Museum / White Pines Lake
From Angels Camp travel east on Hwy. 4 toward Arnold. In Arnold, veer left onto Blagen Road just past the Chevron gas station. Follow Blagen Road for approximately one mile through the community of White Pines. Turn left on Dunbar Road and continue to the Logging Museum (please respect parking spots designated for museum visitors). Some people also choose to park near the playground at White Pines Lake, which will be on your right as you turn onto Dunbar Road.
ART Trailhead: Avery Sheep Ranch

From Angels Camp travel east on Hwy. 4. Approximately 2 miles after the Calaveras Ranger Station in Hathaway Pines turn left onto Avery Sheep Ranch Road. Follow Avery Sheep Ranch approximately 2 miles until you see a dirt parking area on your right hand side. You can park here, or to shorten your hike you can follow the fire road for a quarter mile and park at a designated area further up the road.
ART Trailhead: Cedar Center
Located right out of this Arnold shopping center, the Cedar Center trailhead is the easiest to find and the fastest access to the San Antonio Falls.
In Arnold, navigate to Cedar Center. If you get sat nav directions to the Arnold Black Bear Inn, it will take you very close to the trail head. From there, it's a short uphill hike to the main trail. Just follow the signposts.
ART Trailhead: Valley View
If you don't have much time, but still want to experience some of the ART's highlights, you may choose to park at this alternative trailhead located in a residential area. But please be sure to respect speed limits and parking restrictions.
From Angels Camp travel east on Hwy. 4. Just as you enter Arnold, turn left on Lakemont Drive. Veer left at the first junction onto Valley View Drive. Follow Valley View Drive for one mile through a residential area. Once the road turns to dirt, follow for another 0.5 mile. The parking area will be on your right and is currently noted with a non-descript parking symbol on a bulletin board. The "P9" access trail that joins to the Arnold Rim Trail is in the southwest portion of this large turnout.

Arnold Rim Trail: The Highlights
The ART features some of the area's best hiking, trail running, mountain biking and horseback riding. When you set out to explore you'll climb to incredible vistas, descend into canyons to pass over streams, discover unusual rock formations, wander through old growth forests and probably stumble upon a variety of wildlife too (yes, there are bears in the area!). Best for day hikes, most people set out to find the hidden waterfall and/or the best views…
Cougar Rock – If you're into geology and like views too, Cougar Rock won't disappoint. Climb up this craggy feature and look out toward the Mokelumne River Canyon and beyond.
Top of the World – Another "worth the climb" moment awaits as you reach this peak that offers stunning views to Mt. Diablo in the Bay Area and the Yosemite Wilderness in the other direction. You wouldn't think this view exists at mid-elevation.
San Antonio Falls Overlook – Yes, there's actually a waterfall in Calaveras. As you start your hike, you'll probably be skeptical until you start descending into a canyon and reach a stream and then finally the falls overlook. Enjoy your Zen moment as you take in the entrancing sound of water cascading over granite.
Find more great hiking & biking trails in Calaveras County.
Don't miss this Arnold Rim Trail video either. If this doesn't make you want to go, we don't know what will.
Arnold Rim Trail listing on our site includes maps and contact info.
Blogs featuring the Arnold Rim Trail: Do This! Discover Calaveras' Hiking and Paddling Sweet Spots | 2013 Innovations in Tourism Award-Winners Announced | Destination Arnold: 7 Things to Do When You Get Here | Do This! Discover Calaveras' Hiking and Paddling Sweet Spots | Disc Golf Takes Off in Calaveras County | Accounting Along the ART | Top Family-friendly Picks for Winter Activities | Calaveras County: Your Adventure Land, Summer Edition
Videos featuring the Arnold Rim Trail: The Pooch Perspective on the ARl | ART video