Mokelumne Hill is the western-most Gold Rush era town in Calaveras County and boasts a charming, historic Main Street which is accessed off the highway. Undulating streets with charming, period architecture and beautiful views lend old-time appeal to a stroll around town. The town's few amenities are charming, like the Historical Society, which also serves as the library. Find a new favorite author from among their books for sale on the porch and pay in a depository box by the front door – an honor-system trust that's adorable and totally Moke Hill.
Mokelumne Hill: The Hotel Léger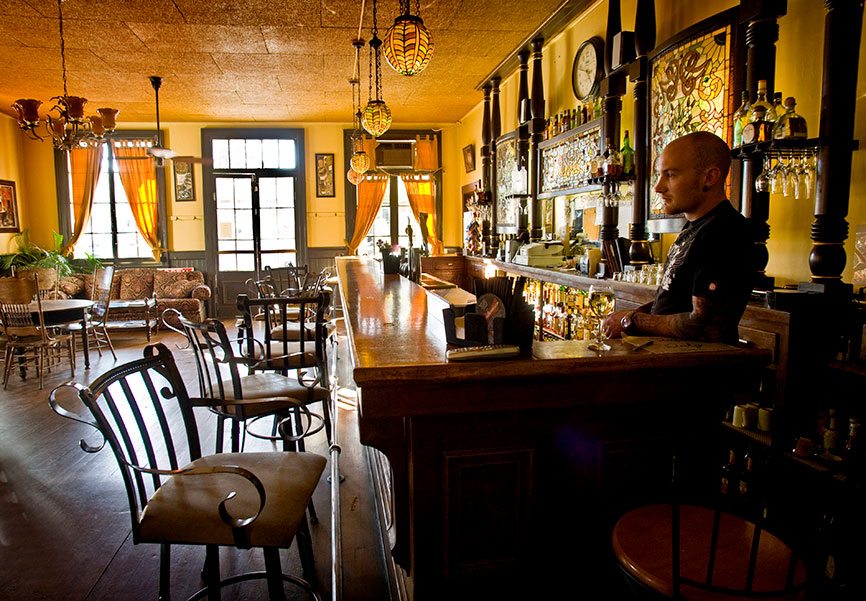 The Hotel Léger is one of only two continuously operating Gold Rush era hotels in Calaveras County. At the heart of the town's culture it serves as friendly, local gathering place and watering hole, restaurant, hotel and event-center and most-famous haunted building on the west side of the county. Those with the interest and courage are encouraged to pick up a ghost-hunting kit from the front desk for an impromptu ghost-hunt. The Whitewater Grill and Saloon is the premiere restaurant and saloon in town and well-worth a visit for creative cocktails and surprisingly inexpensive fine-dining.
Mokelumne Hill: Arts Culture
The culture here is casually arty. As the home of Petroglyphe Gallery, Acme Arts private workshops and an annual writing retreat, Moke Hill attracts the creative among us. Moke Hill offers creative experiences for all ability levels where friendliness is the local currency. And stopping in at Renegade Winery's tasting room rounds off the visit nicely.
You'll want to spend time to enjoy the Gold Rush era architecture in its hues of faded russet, blue and green. If you're an avid photographer you might get some of your best Gold Country shots here. It's hard to tear yourself away once you get started. More of a nature lover? Then you'll want to drive a short distance to the Mokelumne River, on the Mokelumne Coast to Crest Trail with endless hiking and beautiful views.
But don't take our word for it… see what popular US travel website, Only In Your State says about Mokelumne Hill in their article: This Quiet Gold Rush Town in Northern California Makes for a Perfect Summer Day Trip.