Spring in Calaveras means rolling green hills, huge displays of blooming wildflowers, sunny days and warm nights – the perfect time to plan your Calaveras getaway. Read on for suggestions of what to do while you're here:
Spring in Calaveras: Unwind, Indulge…or Both
For the best in Spring flower displays, check out our blog: Where to See Beautiful Wildflowers. Tailor this itinerary to your tastes with this guide to places to unwind and indulge in Calaveras County.
In Spring, crisp mornings make way for soothing sunshine in the foothills. Sign up for a tee time at one of the area's challenging and scenic golf courses. Try the championship course at The Golf Club at Copper Valley Golf Resort, which has received recognition from both Golf Digest and Golf Week Magazine, or check out Greenhorn Creek Resort. Located in the historic Gold County, Robert Trent Jones, Jr. re-designed Greenhorn Creek's golf course to take full advantage of the historic landscape. The course wanders throughout the rolling foothills and 100-year old oak trees and features ancient structures, underground diggings, and artifacts of that golden era. With award-winning holes and numerous accolades, Greenhorn Creeks is a must play the golf course.
Spend the afternoon hopping from town to town and tapping into the local art scene. Make your first stop Allegorie Art and Wine in Murphys, featuring rotating exhibits from two local artists, as well as hand-crafted wines at their unique tasting bar (we won't reveal what's so special about their tasting bar here).
Next, make your way to the Gallery Store of Calaveras Arts Council.  Housed in a historic building in San Andreas dating back to 1858, the Gallery Store sells gifts and fine art made by Calaveras County artists.
Finish your tour at the Petroglyphe Gallery in Mokelumne Hill which features the work of over 20 artists from California and beyond, as well as a broad variety of hands-on workshops to bring out your inner creative.  Time it right and you might be able to observe an artist in action at one of their frequent demonstrations.
Wrap up your day in the same place it started. Both The Golf Club at Copper Valley and Greenhorn Creek feature restaurants that are a must-try.  Settle in to a table overlooking the 9th green at the Verona 18, only a few steps away from the golf course. The restaurant, with its Frank Lloyd Wright inspired vibe, combines local, farm-raised products with other international treasures to create an exceptional dining experience.  At Greenhorn, Camps Restaurant offers airy sunset views over the foothills, the perfect end to the perfect day.
Area lodging: Stay where you play at The Golf Club at Copper Valley, Greenhorn Creek – Villas or their Caddy Shack (great for a big group).
Have more time in the area? Here are a few other suggestions…
Grab your pole. Nothing is more serene than a peaceful morning on a calm lake in Spring, fishing pole in hand. Rise and shine early to get to Lake Camanche for some of the year's best fishing, when the striped bass are plentiful.
Go for a stroll. Park your car at Murphys Community Park and head out for a stroll on Six Mile Road towards Ironstone Vineyards, a favorite early morning route among locals. Pass by budding vineyards, blooming daffodils and the greenest fields you'll ever see.
Easy Hikes.  Majestic oaks, lush green hillsides and wildflowers surround the recreation trails at New Melones Lake, which are perfect for moderate afternoon hikes with the family or pets.  Download trail maps for both Tuttletown and Glory Hole Recreation areas.
---
Spring in Calaveras: Easy exploring: Catch the highlights
Spring is the best time of year to wander around the country roads hunting for wildflowers. Be on the lookout for fields of daffodils in March, and poppies and other native flowers April through May. Spring is also a great time to experience the backroads and byways of Calaveras, whether it's on two wheels or four, from winding river canyon drives to wide open grasslands.
On the lookout for wildflowers? Don't miss our Wildflower Guide in Calaveras County, from top destinations to hidden backroads and byways.
Into history? Once you've gassed up your ride, explore the area's historical sites. Calaveras County is home to more than 40 State Historical Markers. In fact, there are placards in just about every Calaveras downtown with stories into the past. Looking for historical highlights? Don't miss historic downtown walking tours for Mokelumne Hill, Angels Camp, San Andreas, and Murphys, CA, or get hands on at one of our special museums throughout Calaveras County.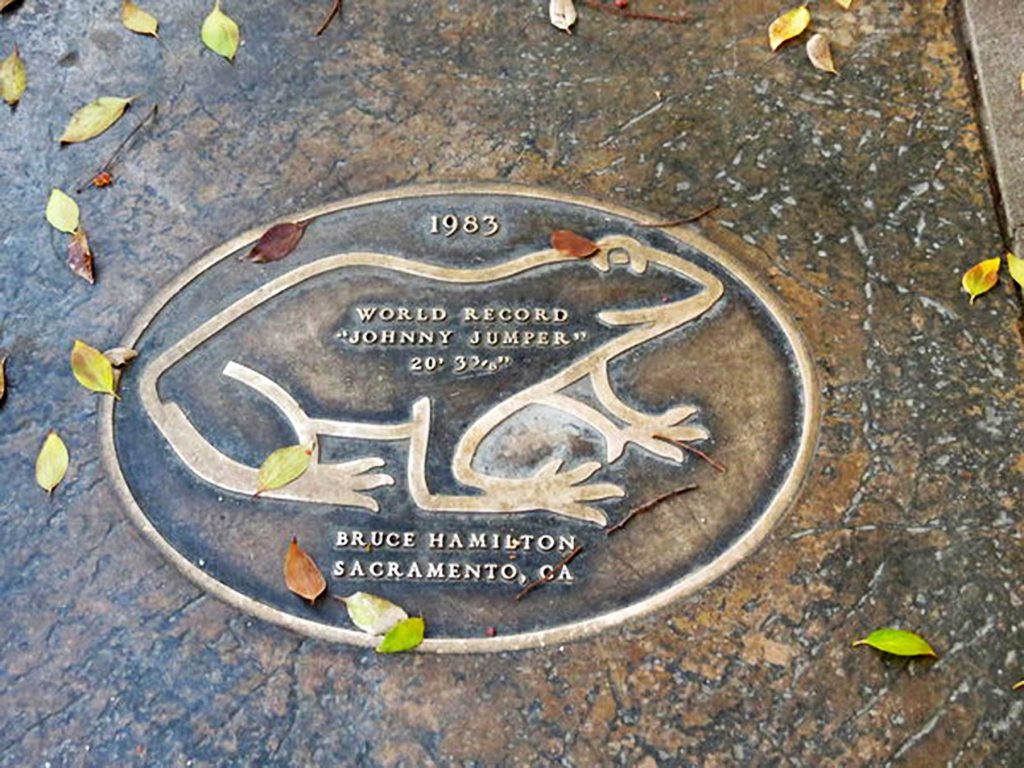 Afterwards, make your way back to Angels Camp to check out the Frog Hop of Fame on Main Street before heading to dinner. The plaques that line the sidewalk immortalize the winners of the annual Jumping Frog Jubilee International Frog Jump Competition, including some World Record holders. Maybe you'll get one next year?
On the Frog Hop of Fame, you'll find Cascabels Mexican Restaurant spins up a hearty burrito or even better, a barbacoa bocadillo with chipotle sauce and a pint of pale ale. Or, try The Pickled Porch Cafe, a true-fresh kitchen serving a variety of delicious, housemade-from-scratch salads, soups, and sandwiches. If your pup has joined you for the trip, there is even a pet-friendly picnic area available to enjoy lunch with your furry friends!
Across the street, Lemon Tree Bakery and Yummy Ha Ha Ice Cream churn out delicious artisanal baked goods and ice cream in downtown historic Angels Camp. Stop for a morning coffee and freshly baked pastry or bagel.
---
Spring in Calaveras: Go for it! Active adventures
Snowplay in the Spring. On the Western end of Calaveras, the wildflowers will be blooming, and on the other Eastern end, there will still be mountains of snow, perfect for snowshoeing in short sleeves, taking a cruise on a snowmobile or skiing the spring "corn."
Rent a pair of snowshoes from Sierra Nevada Adventure Company or Ebbetts Pass Sporting Goods (be sure to get your day parking pass, see below) and head for a day long adventure on Mt. Reba or  Inspiration Point near Lake Alpine, both offer stunning views of snow-capped peaks as far as meets the eye.  You'll need a Sno-Park permit to park at the road's end, available online, or at Ebbetts Pass Sporting Goods and Hathaway Pines Ranger Station.
Prefer a little more horsepower for your day on the snow?  Take a tour with Bear Valley Snowmobile, they'll set you up with a snowmobile and all the necessary safety gear for the 65 kilometers of groomed trails within the Stanislaus National Forest.  Rentals can be reserved for a minimum of two hours up to a full week!
Some of us just need to keep skiing as long as there's snow to slide on – both Bear Valley Mountain and Bear Valley Adventure Company typically stay open for skiing through late April – and it's a perfect time to get a deal on a season pass that will let you ski the rest of the current season and the following as well – but also year-round for all kinds of mountain adventures.
Plan ahead to meet up with O.A.R.S. Whitewater Rafting in Big Trees State Park for a day of big water on the North Fork of the Stanislaus River. Ride through Class IV+ doozies like Beginner's Luck, Body Slam and Surf City on an exhilarating half-day trip. This unique whitewater run is typically only available for a very small window of time each Spring, so make sure to call ahead to join available Spring runs before it's too late.
Keep the adrenaline pumping all day long by mountain biking the Arnold Rim Trail, 30+ miles of dirt road and single track trail through pristine forest with incredible vistas at Cougar Rock and trailside bonuses like San Antonio Falls overlook. The trail, which connects White Pines to Avery/Sheep Ranch Road is well-marked, but it's still advisable to have a map since many fire roads intersect the route. Download the map through the Avenza app for free, or pick one up at the Calaveras Visitors Bureau in Angels Camp, Stanislaus National Forest Ranger Station in Hathaway Pines, or SNAC outdoor shop in Arnold.
If you're more of a hiker, choose how much of the Arnold RIm Trail to explore. You can make your Spring visit a full-day hike on the trail, hike shorter loops or hop on and off of the trail via various fire roads for a shorter trip.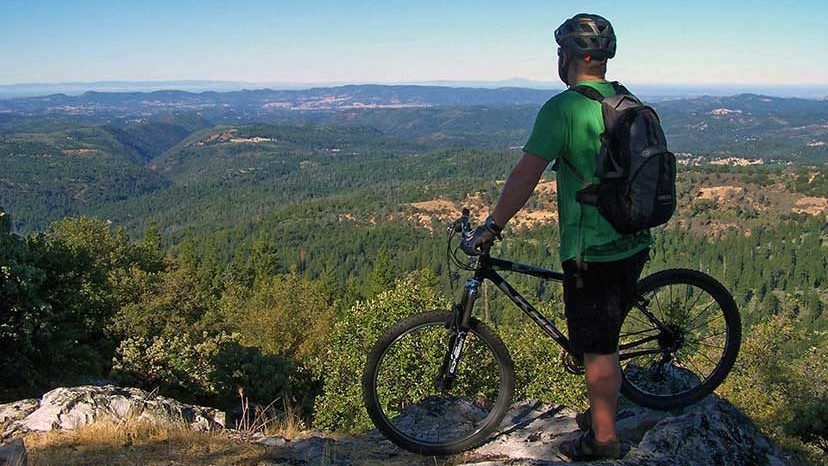 The best way to reward all that activity is with a Giant Burger. By the name it should be clear what to order. But don't skimp – go for one of their extremely thick milkshakes too. If you like flavored shakes, you'll have plenty to choose from here including boysenberry, banana and root beer.
Area Lodging: Camp with the giants at Big Trees State Park, sleep riverside at the Sourgrass Recreation Area Campground or grab a room at one of the motels in Arnold.
Have more time in the area? Here are a few other suggestions…
Paddle Pardee. While some try to hang on to their snow sports for as long as they can, others have a chance to launch their kayaks and start welcoming the warmer weather of Spring. Put your boat in at Pardee Reservoir, a scenic low-elevation lake with several fingers that are ideal for flat-water paddling and exploring.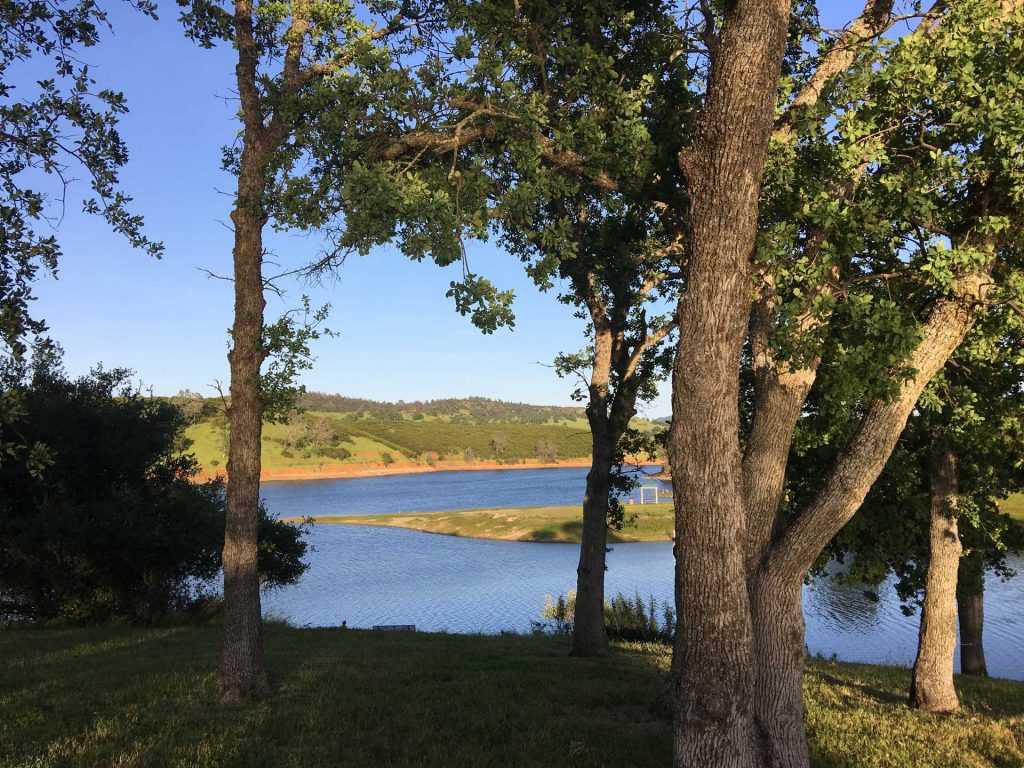 Rock On at Table Mountain. Stretching along the southern end of New Melones Lake (in neighboring Tuolumne County) is an ancient lava flow that stretches from the High Sierra to the foothills known as Table Mountain.  It's become a regional hub for serious rock climbers in recent years, with its variety of basalt columns, finger cracks and steep challenging sport climbs.  But even if you don't fancy the rope-tethered vertical world, a spring hike along the top of the formation, full of vernal pools and lush microhabitats, with views to the Central Valley and Yosemite, is a unique springtime experience.   Check in with the Visitor Center at New Melones for details on access and other interpretive info.