From refreshing swimming holes to hundreds of acres of open water, Calaveras is rich in water sports. Whether you're looking to fish, swim, kayak camp, SUP, or fly down the water on your watercraft of choice, Calaveras knows how to keep the heat in check. Want to find what we have on offer? You'll love this shoutout to the bounty of Calaveras water destinations.
Featured image (above) courtesy of Instagrammer @pvcdesigns at Lake Camanche.

White Pines Lake by Lisa BoultonLOCALS TIP: Looking to enjoy a nice shady picnic with your feet in the water? Grab some lunch to go from any one of Arnold's iconic restaurants like the Arnold Chevron Deli, Bistro Espresso, or Giant Burger.
FIND SUPPLIES: Pick up disc golf supplies, rent kayaks, paddle-boards or other non-motorized lake toys from SNAC. Check out nearby Ebbetts Pass Sporting Goods for fishing supplies and permits and the most current fishing knowledge. White Pines is perfect for laid-back water play like kayaking, SUP, paddle boats, swimming, fishing, and just relaxing on the water. Remember, speed limit not to exceed 5 miles per hour!
DOG FRIENDLY: Yes, on a leash no longer than 6′ and attended at all times.
Learn more About White Pines Lake
1. Natural Bridges
LOCALS TIP: We love to keep this gorgeous 2 mile family-friendly trail green! There are no restrooms, trash service or ranger stations on this trail, so be prepared to pack out whatever you pack in. Tender loving care and treading lightly is strongly encouraged to preserve this beautiful area for generations to come. It is important to please stay on the trail and remember that habitat restoration is in process.
Wear sturdy hiking shoes. Keep in mind that water movement is EXTREMELY swift in this area especially in the spring. Keep a careful eye on children. Stay on the trail and watch for poison oak. One more thing, while it is an easy walk down this one mile trail, remember you will have to hike back up this one mile trail.
⚠️There are NO PARKING signs posted along Parrotts Ferry Road. Park only in designated areas, and please obey all traffic signs to avoid accidents and parking fines. ⚠️ There is an $8 parking fee in the small parking area.  Call the Bureau of Land Management @ 209-785-3300 for more information.
DOG FRIENDLY: No. As much as we adore our canine family members, this is not the place for them. Due to the sensitive ecosystem, even well-behaved dogs should not be brought to this destination.
Learn more about Natural Bridges
Fun Facts: Lake Camanche, New Hogan, and New Melones all offer boating, fishing, day-use hiking, biking, wildflowers, wildlife viewing, and interpretive programs throughout the summer. They also all welcome personal watercraft and other towables, and have reservable tent and RV campsites with views of their lakes—they're even dog-friendly!
2. Lake Alpine
DID YOU KNOW: Lake Alpine is located just within the border of Alpine County, home of Bear Valley Mountain and the least populated county in all of California.
WHEN TO GO: This lake warms up in summertime, the month of May will be scenic but can still be a little on the cold side.
FIND SUPPLIES: You can rent SUPs, kayaks, and most anything else you may need across the way at Bear Valley Adventure Company, and in Arnold at the Sierra Nevada Adventure Company.
DOG FRIENDLY: Yes!
3. New Melones
DID YOU KNOW: At 12,500 acres, New Melones is one of the largest reservoirs in California?
LOCALS TIPS: Looking for shore-line fishing? (Coming either direction on Hwy 49) Head to the New Melones Visitors Center by heading south on Highway 49 and cross the bridge over New Melones Lake. Just after the bridge, turn left onto Melones Court. Stay to the left, and if you come to a closed gate, park your vehicle and walk 100 yards to the shoreline. Check out the New Melones Visitors Center for trail maps and boat launch permits.
Grab a meal at any one of the diverse, family-owned restaurants in historic downtown Angels Camp like lunch on the porch at the dog-friendly Pickled Porch, or Mom's original traditional recipes at Cascabel Mexican Cuisine.  In the mood for sweets? Stop by Lemon Tree Bakery or Yummy Ha Ha artisanal ice cream for some sweet goodies.
FIND GEAR: Rent your water craft at New Melones Marina and stock up on camping or fishing gear at Glory Hole Sports. (Staying in Arnold or above? You can also rent water gear at the locally owned Sierra Nevada Adventure Company in Arnold.)
DOG FRIENDLY: Dogs are welcome on the hiking trails and campgrounds while on a leash no longer than 6′ and never left unattended.
4. New Hogan Lake
LOCATION: Part one of the Valley Springs tri-lake area, 30 miles east of Stockton.
ACTIVITIES: New Hogan Lake is the perfect place for camping, water sports, fishing, hiking, mountain biking, and horseback riding. Note: there is no marina or fuel service, so come fueled and ready to go.
LOCALS TIPS: Grab a bite at one of Valley Spring's killer restaurants including craft beer and burgers at Brew'Gers or Hawg Dawgs Bar and Grill. Work up a sweat at La Contenta Golf Club before you cool down at this luscious lake. Boat-in camping is available at Deer Flat Campground—just one of New Hogan's three idyllic campgrounds.
DOG FRIENDLY: Yes, while on a leash no longer than 6′ and attended at all times.
Learn more about New Hogan Lake
5. Lake Camanche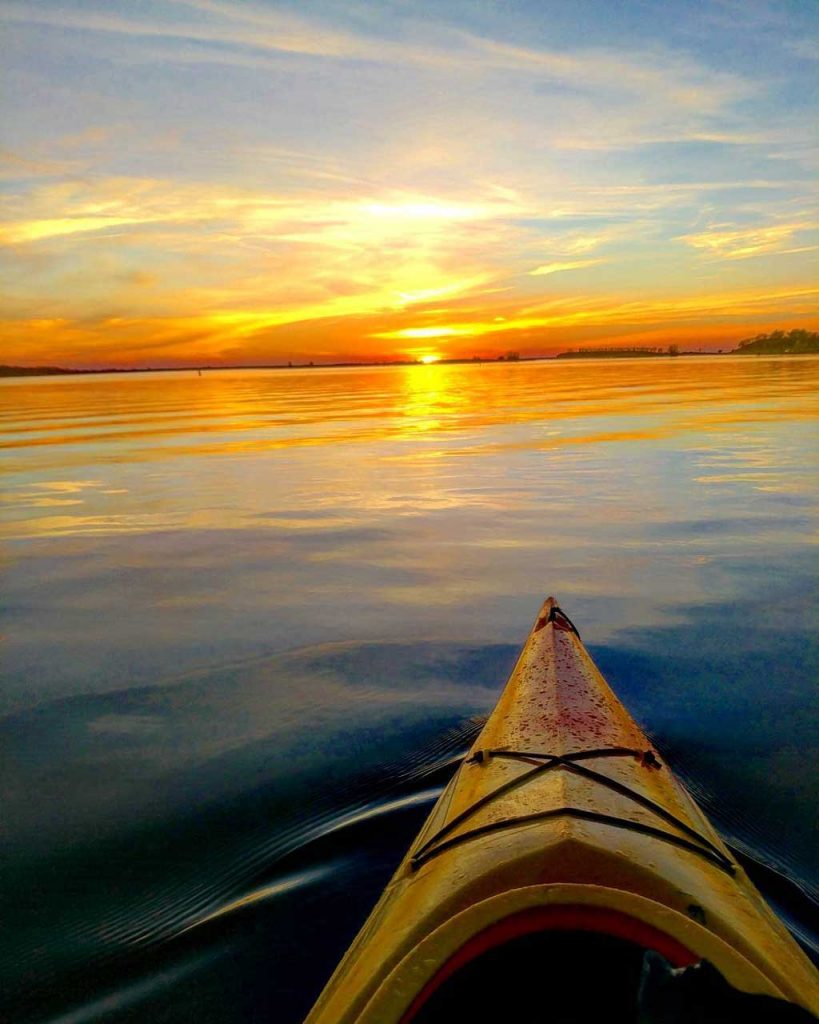 LOCALS TIPS: Get your boat and gear rental at the Marina Stores located on both the North Shore and South Shore of Lake Camanche. Load up on grub in Valley Springs, or right on site at the Cafe on the North Shore.
DID YOU KNOW: Part two of the Valley Springs tri-lake area, Lake Camanche has 54 miles of shoreline and 7,700 surface acres of water and is a popular destination for outdoor weddings and festivals!
DOG FRIENDLY: Yes, while on a leash no longer than 6′ and attended at all times.
Learn more about Lake Camanche
6. Pardee Lake – Fishing and Boating Only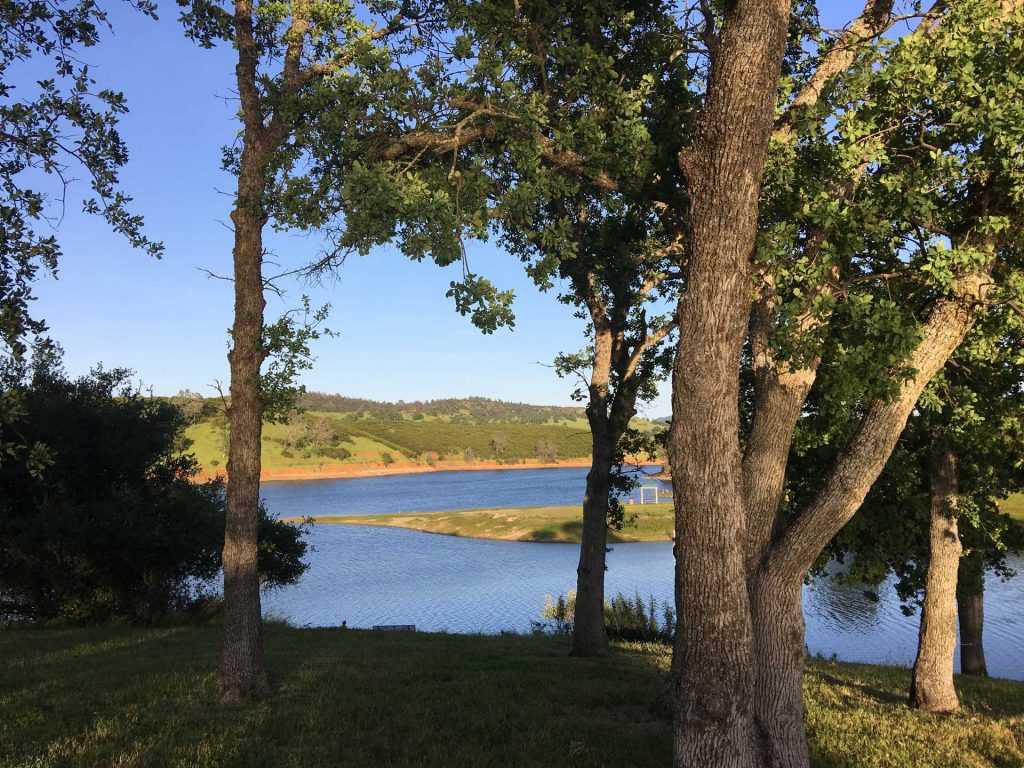 DID YOU KNOW: Part three of the Valley Springs tri-lake area, Pardee Lake is the only lake in Calaveras County that does not allow anyone to swim in the water, making for an extra serene fishing experience.
FEATURES: In addition to their full service marina and wildlife galore, Pardee Lake features fishing, boating, camping, hiking, equestrian trails, picnicking, boat rentals, ten lane boat launch ramp, new state of the art fish cleaning station, developed overnight camping, swimming pool, RV sites with full hook-ups/laundry /hot showers, wifi, flush restrooms, a cute little coffee shop, store, and gas station.
DOG FRIENDLY:  Dogs are welcome (with a fee) in developed areas, but must always be leashed and controlled.
7. Spicer Reservoir
Spicer Reservoir is about 8 miles long and has a surface area of 2,000 acres when full, and half of the reservoir is in the Carson-Iceberg Wilderness Area at 6,000′ altitude. Power boats are allowed on the west end (non-Wilderness), but have a 5 mph speed limit, so generally aren't a problem. This reservoir has a rugged, rocky shoreline and great views. Nesting osprey can be seen in the summer. Fishing is allowed with license.  Visitors enjoy camping, fishing, hiking, and horseback riding. Located nine miles southeast of Highway 4 on Spicer Reservoir Road (7N01), a winding paved route where safe travel speeds average 20-30 mph.  You can rent kayaks, paddleboards and canoes from Sierra Nevada Adventure Company in Arnold and all your fishing and sporting needs at Ebbetts Pass Sporting Goods.
General Notes: Maximum speed on the lower portion of the lake is 10 mph; the upper portion, surrounded by the Carson-Iceberg Wilderness, is managed for non-motorized uses only. No overnight camping at the boat lot parking.
8. Utica & Union Reservoirs
Utica reservoir is the sister to Union Reservoir and located just off Ebbetts Pass National Scenic Byway. Small and very picturesque, it has a rocky, wooded shoreline and many islands that are fun to paddle to and explore. Only non-motorized boating is allowed here. Being forest service land, camping is allowed almost any place that is not marked as no camping, including a few islands.
BONUS: BRET HARTE AQUATIC CENTER
Enjoy lap swim, water aerobics, or just plain fun in the sun at the Bret Harte Aquatic Center in Angels Camp.  The facility is gorgeous and includes beach entry, showers and lockers in the changing areas, and  plenty of room to lay out to soak up the sun. See their schedule here.
See you on the water!
Looking for more things to do and places to stay? Give us a call 7 days a week, 9:30 AM to 4:30 PM 209-736-0049.
⚠Please note: Fast moving water in streams and rivers can be more dangerous for adults, children, and dogs than it looks. Play safe by only swimming in clearly marked safe-swimming areas for the safety of you and your loved ones. Learn more about any destination you are considering by calling our office 7 days a week 9:30 AM to 4:30 PM at 1-209-736-0049.