Calaveras Wine Adventure Itinerary
Calaveras: Where Big Bold Wines Meet Big Bold Adventure
From the moment wine lovers enter Calaveras County, they can sense the difference in attitude. It's a laid-back, easy-going, meet-the-winemaker kind of vibe with endless recreational opportunities to round out a memory-making trip. The wine country here, with its Mediterranean climate and rolling foothills is perfectly suited to growing Rhone, Spanish and Italian varietals with big, bold flavor.
Big and bold can describe the environment too, with its granite mountaintops in the higher elevations and limestone foothills dotted with caves. In fact, Calaveras has more show-caves than any other county in California. You can take a walk tour (for the more pedestrian minded) or go full adventure mode with rappelling, wild cave expeditions and zip lining.
We've put together a 2-day itinerary to take in the best of local wine, food and adventure for the kind of trip you'll want to brag about.
Calaveras Wine Adventure – DAY 1
Start your adventure with a 40-mph zip on Moaning Cavern Adventure Park's ¼ mile long twin zip lines. Bring your Go-Pro because video like this is social media gold. Need a Go-Pro? Pick one up at the visitors center and get your zip line adventure for FREE!
Next up, you're going to take a cave tour or a wild cave expedition (advance reservations required) for the most adventurous exploration of the cave.
After all that excitement you'll be ready for a sit down meal in the mediterranean style café, Alchemy in Murphys. Their crab salad appetizer is large enough for an entrée, paired with their decadent gold nugget cheese bread (which comes with every meal). Enjoy with the Milliaire sparkling wine, a blend of Chardonnay and Chenin Blanc, for a simple, clean start on your Calaveras wine tasting journey.
Next up: wine tasting in charming, historic downtown Murphys' almost two dozen wine tasting rooms. Use this handy tasting room map published by the Calaveras Winegrape Alliance (CWA) to find individual wineries or just stroll your way through this picturesque Gold Rush town with its boutique shops. Any winery members of the CWA can provide you with a free Tasting Notebook that you can use to track your favorite Calaveras wines. This handy little booklet lists each winery in alphabetical order and leaves plenty of room for your notes. Be sure to ask about it if you don't immediately spot one. How many times have you tasted an outstanding wine and promptly forgot the name? Finally a simple solution, elegantly presented.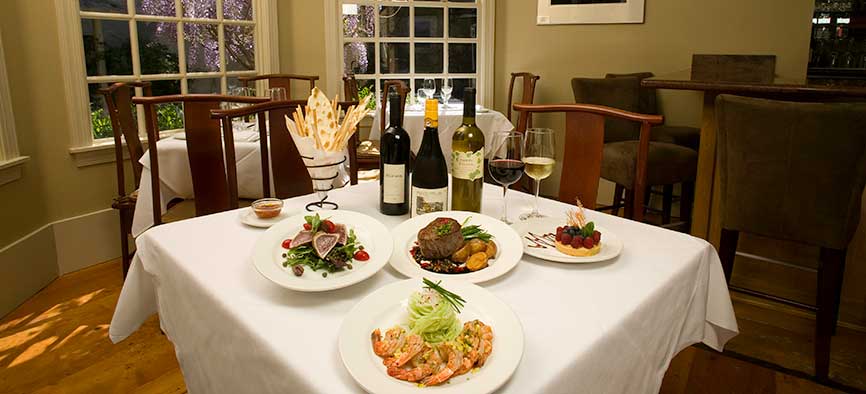 After developing an appetite from wine tasting, you'll be ready for a delicious meal at V Restaurant paired with local wines. We've taken the guess-work out of their mouth-watering, seasonal menu. Stay at the Victoria Inn for first-rate accommodation in charming, historic downtown Murphys and for ease of access to "V" – their restaurant, bar and bistro.
Calaveras Wine Adventure – DAY 2
Start your day with a delicious breakfast at Grounds Restaurant just a few doors down from the Victoria Inn. Stop by Aria Bakery and pick up some sandwiches on freshly made bread to enjoy after your caving expedition.
Drive out to beautiful Mountain Ranch for a 3-5 hour Middle Earth Expedition at California Cavern. This is wild caving adventure at its best. You'll climb, crawl, squeeze and squelch your way through the furthest reaches of California's longest cave system, with only cave helmet lights to light the way. You'll see crystalline formations on the walls and ceilings and deep, goopy mud on the floors. And you're making memories to last a lifetime.
After cleaning up from your wonderfully muddy adventure, head back to your lodging. A simple call to Courtwood Wine Tours will have your group whisked off to an all-inclusive tour of a variety of Calaveras vineyards (reservations at least 48 hours in advance are required). Let Courtwood Wine Tours do all the work for you, from picking you up and dropping you off in their air conditioned van, providing an interesting commentary on the Calaveras wine industry, introducing you to vineyard owners and vintners, providing a gourmet picnic to pair with your wines, and providing cold soft drinks in their van. Here you get the inside story on wine production from small, unique wineries in beautiful settings off winding country roads. Courtwood puts together their selection for you from among 15 different boutique vineyards throughout the county. Tours are offered Thursdays, Fridays, Saturdays, Mondays and Tuesdays, and are thoroughly entertaining and informative. With no driving required this is the ultimate way to enjoy Calaveras wine country.
After Courtwood delivers you back to your lodging at the Victoria Inn, take your pick of the restaurants in Murphys. You've already sampled V-Restaurant… maybe something a little more rustic is the order of the day. Head over to the Murphys Historic Hotel and enjoy dining on their patio overlooking Main Street. Consider rounding off your evening with a visit to their historic saloon for a couple of cocktails, and we have a feeling you'll be sleeping well tonight.