California summers can get hot! Find fun and adventurous ways to cool off in Calaveras County this summer whether by walking among giants, exploring underground secrets, or taking a cool dip in a pristine alpine lake.
Something to remember: All of Calaveras' locals greatly appreciate our responsible and thoughtful tourists! Thank you for properly disposing of trash, staying on designated trails, and letting the wild animals forage for their own food.
1.
Cool Off in Calaveras

–

Head Underground with Calaveras Caves

Calaveras has more caves than any county in California! Each cave has a lot to offer like simple walking tours or elaborate adventures. With three show caves to choose from, learn the differences between each one to decide which is  best for you:

Explore California Cavern near San Andreas, CA.
Explore Mercer Caverns near Murphys, CA.
Explore Moaning Cavern near Angels Camp, CA.
2.
Cool Off in Calaveras

–

Calaveras Museums

Travel back in time to beat the heat. If history is your thing, you are in luck! Calaveras is not only rich in Gold Rush history, but air-conditioned museums with hours worth of Indigenous American and Gold Rush artifacts to explore. Learn more below:
3.
Cool Off in Calaveras

–

Gemstone Mining and Gold Panning

While exploring Calaveras caves and museums, find yourself elbow deep in cool water gem stone mining or gold panning at one of our many panning destinations throughout the county. Explore your options below, or if you're looking for an authentic gold panning experience just like in 1849, you can schedule an appointment with Angels Camp local Mike Darby of Gold Rush Originals here.
4.
Cool Off in Calaveras

–

Calaveras Ice Cream

Nothing says cool like handmade artisan ice cream. You can find some handmade, delicious,  and refreshing cool treats right here in Calaveras County with our four favorite artisan ice cream shops:
5.
Cool Off in Calaveras

–

Catch a Movie at Angels 6 Theatres

Located right across the street from Yummy Ha! Ha! Ice Cream in historic downtown Angels Camp, Angels 6 Theatres is the perfect place to top off your Calaveras experience with the latest movies in this art-deco style building with its 6 screens and brand new luxurious reclining seats. Built during the silent film era, this historic theater comes with all the modern perks–including air-conditioned auditoriums and a new state-of-the-art sound system. Tickets and concessions are more affordable than the average California cinema making Angels 6 Theatres a special treat. Small town friendliness, delicious GMO-free popcorn, comfy high back love seats with flip up armrests and quaint downtown atmosphere all contribute to making this a fun place to enjoy a movie and a way to cool off in Calaveras.
6.
Cool Off in Calaveras

–

Retail Therapy

If shopping is your thing, you're in luck. Calaveras County is home to more independently owned small businesses and boutiques than you can shake a stick at. Explore shopping by town here:
7.
Cool Off in Calaveras

–

Drink Calaveras

For wine lovers: Calaveras County is home to dozens of national award winning wine varietals. Calaveras Winegrape Alliance says "Our wines are made in small batches and family run operations dedicated to sustainability and organic practices. Calaveras is a perfect growing region for hearty Spanish and Italian varietals like Barbera, Tempranillo, Mourvedre, Nebbiolo, Grenache, Graciano, Toringa, Albarino, Marsanne, Verdelho and Symphony as well as old vine Zinfandels, hearty and robust Cabernet and Petite Sirah".  With more than two dozen artisan wine tasting rooms within strolling distance in historic downtown Murphys and additional National award winning vineyards and tasting rooms throughout Calaveras County, you won't want to miss these refreshing small batch varietals. Be sure to visit Prospect 772 winery between Angels Camp and Murphys on Highway 4.  Friday nights in August Prospect 772 will have live music (click here to see their line up and get your tickets) and Blue Stone Pizza will be on hand with their artisan pizzas cooked to perfection in their custom oven.  Renegade Winery in historic downtown Mokelumne Hill has live music on Saturdays in the summer that pairs nicely with any of their award-winning wines.  Both of these gems are definitely worth the beautiful, short drive to go explore.

Craft beer: Looking for places to crack open a cold one? From Calaveras' own Snowshoe Brewery in Arnold, CA to classic Irish beers at Murphys Irish Pub and craft beer at Murphys Pourhouse and The Watering Hole, find the best places to grab a beer in Calaveras County with our Beer Lovers Guide to Calaveras County.

BONUS: Have you heard that Calaveras now has its very own cidery!? Prosperity Ciderworks is located in Mokelumne Hill across Highway 49 from Moke Hill's historic downtown.  This is a definite must do if you love handcrafted cider made from local apple and pear trees found on old homesteads and passed-down family orchards right here in Calaveras.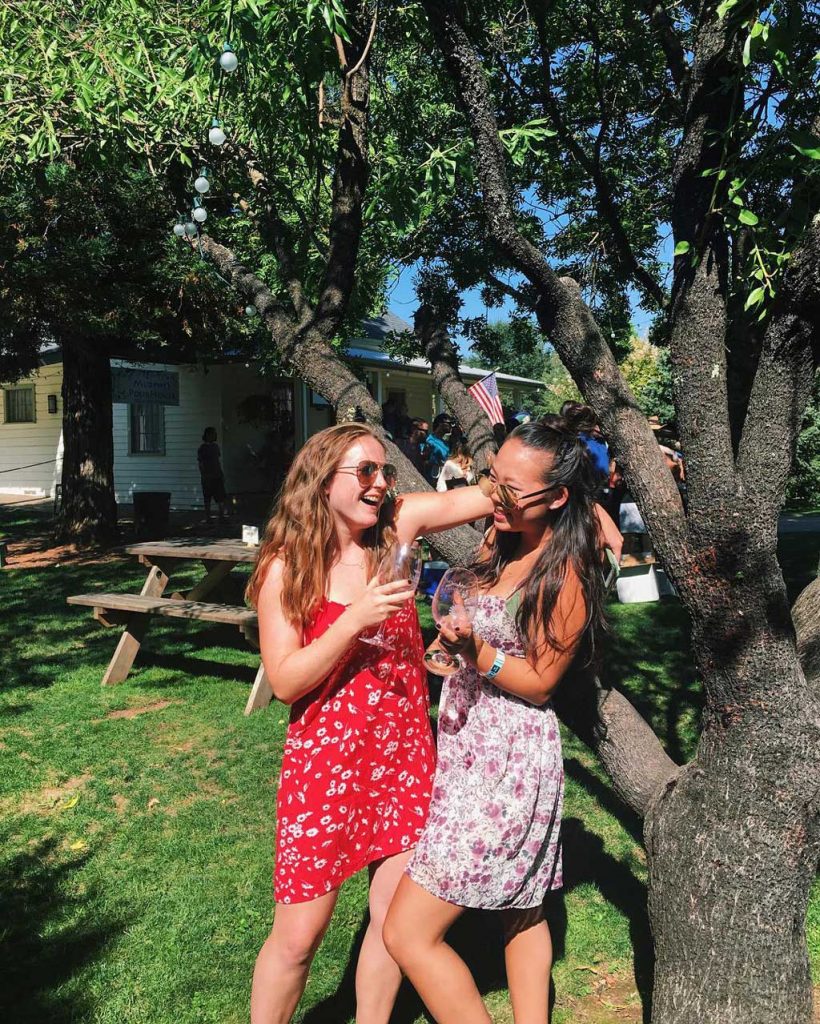 4th of July wine-tasting fun in downtown Murphys, CA I Courtesy of Instagrammer @shandyw2.
8.
Cool Off in Calaveras

–

Play in the Water

With an elevation change of 8,973 feet across the span of Calaveras County from West to East, Calaveras offers a breathtaking range of natural diversity within a relatively short distance. With hundreds of acres of lakes at its lower elevations near Valley Springs, Copperopolis, and historic Angels Camp to dozens of high sierra lakes and rushing streams at its higher elevations in the High Sierra region beginning in Arnold, CA and beyond. Explore Calaveras lakes and swimming holes here today.
9.
Cool Off in Calaveras

–

Hike the High Sierra

Want to take the edge off the heat while enjoying the natural beauty of the region? Our High Sierra trails are typically shady and more often noticeably cooler than the lower elevations in California. Find great High Sierra trails at the Arnold Rim Trail, Calaveras Big Trees State Park, and by exploring the Ebbetts Pass National Scenic Byway.
For more things to do and places to stay in Calaveras County, the Calaveras Visitors Bureau information center is standing by to help 7 days a week 9:30 am to 4:30 pm. Give us a call at 209-736-0049 or contact us via email at info@gocalaveras.com.
Happy travels!