Southern Gold Country Golf Itinerary


Home to multiple golf courses, set in spectacular scenery, the Gold Country is a wonderful place to tee up. Pair your golfing trip with historic Gold Rush towns, great wine and food and you're on to a winning combination. Here we offer a 5-day golfing itinerary through Southern Gold Country. This itinerary takes you through Calaveras, Tuolumne and Mariposa Counties.
Head out of Stockton east on Highway 4, approximately 1 ½ hours South of Sacramento.
OPTIONAL HALF DAY: Arrive in Calaveras County
Take in 9 holes of golf at The Golf Club at Copper Valley, followed by dinner in Copperopolis and finally drive to Angels Camp to check into your lodging. Map: https://goo.gl/maps/duLVf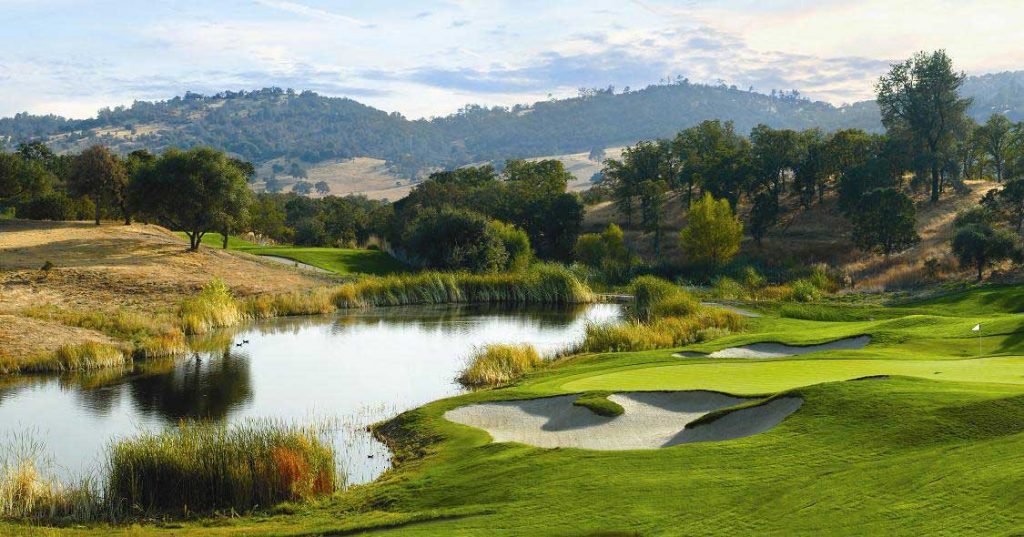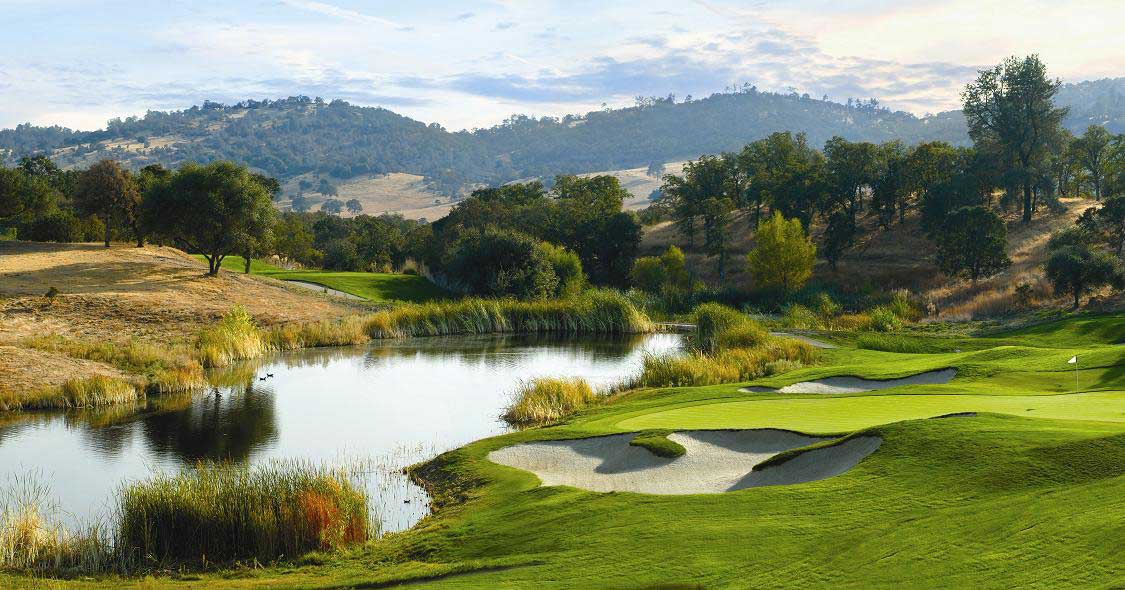 9 Holes at the The Golf Club at Copper Valley Golf Course
This semi-private championship golf course designed by Carter Morris is surrounded by shimmering lakes and wetlands, sturdy native oak trees and indigenous grasses and offers dramatic views of the Sierras and Yosemite.   The feeling of tranquility is enhanced by the fact that no two holes run parallel to each other.  It is consistently ranked among California's top courses and currently ranked by Golfweek Magazine as #23 on the list of Best Courses You Can Play in California 2021. 6,800 yards.
Dinner at Vine 18 @ The Golf Club at Copper Valley
The dining room overlooks the 9th green, with spectacular views of the foothills that will relax you from the moment you arrive. Appointed in classical "prairie style" with an open floor plan and towering cathedral ceilings, this Frank Lloyd Wright inspired architecture is one of the few Indigenous American Styles developed by a creative group of Chicago Architects known collectively as the "prairie school."
OR drive 7 minutes to Copperopolis Town Square to
Griff's BBQ and Grill serves up slow smoked BBQ, steaks, ribs, sandwiches and more. Using only fresh ingredients, their menu is prepared on-site every day. Enjoy wine and beer on tap, tender ribs, 14-hour pulled pork sandwich and the best BBQ sauce in town! Experience Copperopolis history played out through the rustic décor of hand-hewn beams, copper mining artifacts and reclaimed lumber from throughout Calaveras County.
Lodging at the Copperopolis Town Square
The Gateway Hotel provides a unique experience due to the different layout, views, and size of each room. Not only do they support your trip by giving you a cozy spot to sleep at night, but also have 12 Tesla Super Chargers to charge up your Tesla overnight.
OR Drive 20 minutes east on Highway 4 to Angels Camp.
Check in to lodging at Worldmark Villas at Greenhorn Creek Resort. Overlooking the tenth fairway and Clubhouse, guests will enjoy the selection of comfortable accommodations available at the Resort at Greenhorn Creek. In several buildings around an attractive hilltop site, these spacious villas are available in one and two bedroom units, with kitchens, fireplaces, balconies and possible sleeping capacities of up to 6 persons. The Resort at Greenhorn Creek is a full service facility with swimming pools, tennis courts, family entertainment area and a workout room; these villas are the perfect getaway!
Enjoy optional evening wine tasting at The Cellar Room at Greenhorn Creek Resort coming Spring 2022, featuring a variety of delicious Calaveras wines in a beautifully decorated tasting room with outdoor patio seating. This beautiful tasting room's outdoor patio overlooks the fairway, and the selection of wines will give you a good overview of what's available in Calaveras County.
DAY 2:   Full day in Calaveras County
Breakfast at the resort, take in 18 holes at Greenhorn Creek. Lunch in downtown Angels Camp, then tour historic downtown and visit the Angels Camp Museum. Finally, head back to Greenhorn for dinner at CAMPS Restaurant. Map: https://goo.gl/maps/rfqqE
Breakfast at CAMPS, a handsome restaurant highlighting regional produce, wines, hand-cut meats and steaks, fresh fish and hand-tossed salads; proudly serving local, ranch-raised, corn-fed USDA Calaveras County beef burgers and farm-fresh local eggs! A regional destination with a vivacious bar, impressive number of local wines, eleven beers on tap and great cocktails amid dancing and live music weekends.
18 holes at Greenhorn Creek Golf Course
Greenhorn Creek is an award-winning Robert Trent Jones, Jr. redesigned championship golf course located in the Sierra Foothills of Angels Camp, the center of California's Gold Rush history.  This 6,740-yard, par 72 layout wanders through clusters of 200 year-old oak trees and over a once busy tract of underground gold mines.  Changing elevations along with natural and man-made hazards, such as a stone farmer's wall, ancient Chinese oven and a variety of water hazards will challenge every golfer's skill level.
Drive 15 minutes east on Highway 4 to historic downtown Murphys.
Enjoy lunch in the heart of charming, historic downtown Murphys on the patio at Murphys Historic Hotel Restaurant beneath shady trees in a picturesque setting. Known for its award-winning prime rib, rack of lamb and fried chicken, the Murphys Hotel Restaurant is a favorite of locals and offers pairings with Calaveras wines for each course.
Enjoy a self-guided tour of charming, historic downtown Murphys with its nearly two dozen wine tasting rooms, and boutique shops.
OR drive just 5 minutes out of town to
Ironstone Vineyards. Take a guided tour (available daily 1:30 pm – meet in the Tasting Room) of the beautifully manicured grounds and facilities of Calaveras' largest vineyard. Or take a self-guided tour at your own pace. See the outdoor amphitheater, demonstration kitchen, ballroom with the pipe organ, used for silent movie nights, the massive wine cave and the tasting room and deli. Be sure to also visit the heritage museum with its massive crystalline gold specimen and jewelry store.
Dinner at CAMPS Restaurant, Greenhorn Creek Resort
DAY 3: Calaveras County to Tuolumne County
Breakfast in charming historic downtown Angels Camp, then enjoy historic sightseeing in Tuolumne County's Columbia, Jamestown and Sonora, including a visit to the Columbia State Park, a living gold rush town featuring the largest single collection of existing gold rush-era structures in the state; and Indigeny Reserve, an organic apple farm and distillery producing hard apple cider and vodka, followed by a relaxing evening in Jamestown starting with dinner, then over to Stogies Gold Country Lounge for a cocktail and cigar Map: https://goo.gl/maps/1pxpG
Pick up fresh baked deliciousness and coffee at Sugar Bakery before hitting the road. Choose between muffins, scones, and hand-crafted pastries or indulge in one of the decadent brownies from this  owner-operated bakery located in charming, historic downtown Angels Camp with its wildwest architecture.
Head east on Highway 4 and turn right on Parrotts Ferry Road, crossing New Melones Reservoir and enjoy some gorgeous scenery on your 30 minute drive to Columbia State Historic Park.
10:00 am Guided Ranger Tour at Columbia State Historic Park.Your guided tour will transport you back in time to the days of the Gold Rush in this beautifully preserved Gold Rush town. The one-hour walking tour, offered every Saturday & Sunday, is led by a knowledgeable park staff member or docent and includes viewing the actual gold discovery site, and learning about the buildings and early town merchants. This fascinating town is filled with artifacts, history and fun activities. Be sure to stop in at the Columbia Candy Kitchen for some hand made goodies.
Drive 25 minutes on Highway 49 South, then Lime Kiln Road to Mountain Springs Golf Club.
11:30 am Lunch at Banny's at Mountain Springs Golf Course. Choose from a delicious selection of lunch items in a restaurant with one of the best views in Sonora overlooking the Mountain Springs Golf Course and sierra foothills.
1:00 pm Play Mountain Springs Golf. Mountain Springs Golf Club is an 18-hole daily fee course which has rapidly matured into one of the most popular facilities in the Sierra Nevada Foothills. Play this scenic Robert Muir Graves designed championship course while enjoying the Gold Country and the stunning beauty of the Sierra Nevada foothills. The course will challenge for players of all skill levels.
Drive 20 minutes to:
4:00 pm Indigeny Reserve Tasting. Indigeny Reserve is a lush 160 acre preserve and apple orchard set in the breathtaking hills of Sonora, making hand-crafted, organic hard cider and apple brandy in oak barrels. Enjoy tasting a number of hard ciders on tap and their new line of infused vodkas, all triple distilled, in the tasting bar of this beautifully designed facility.
Drive approximately 25 minutes to the Gold Rush era town of Jamestown.
5:30 pm Check into Lodging at Jamestown's National Hotel & Restaurant. This beautiful 1859 hotel in charming, historic downtown Jamestown features a full service fine-dining restaurant and saloon. The romantic rooms have been restored to the elegance of a bygone era. Once you're settled in, head downstairs for a drink and appetizers at the saloon. Belly up to the original 19th century redwood bar over which thousands of dollars in gold dust was spent in the early days. Try award-winning Gold Country wines from their award-winning wine list, a specialty cocktail or a craftsman beer.
Settle yourself in to the elegant dining room for a delicious meal in their acclaimed restaurant featuring fresh pastas, steaks and seafood seasoned with home-grown herbs and accompanied by breads and rolls made daily. Finish up your dinner with a carefully crafted desert paired with their recommended dessert drinks.
Stroll over to Stogies Cigar Lounge, just around the corner from your hotel.
End the evening at Stogies Gold Country Lounge. Pick out a cigar with recommendations if needed from the owners, choose a drink from the eclectic bar and settle into a comfy leather chair – or take it outside to the porch or patio. This has to be one of the most relaxing ways to spend a fun evening. Check out their outstanding reviews: yelp.com/biz/stogies-gold-country-lounge-jamestown
DAY 4: Jamestown, Tuolumne County, to Mariposa, Mariposa County
Start with breakfast at your hotel, then take Historic Highway 49 south to your next lodging stop in Mariposa. Take in 18 holes of golf at Sierra Meadows then return to your hotel for dinner and drinks followed by optional micro-brew tasting. Map: https://goo.gl/maps/GZS8g
Light Breakfast at the National Hotel & Restaurant
Depart hotel after breakfast at your leisure for Mariposa via Highway 49.
This scenic drive is about 90 minutes but we are suggesting you schedule ample time. (52 miles via Highway 49 S)
Arrive at River Rock Inn. Right on the doorstep of Yosemite, this inn is beautifully decorated in eclectic style with hand-picked design items for a unique look in every room. After you settle into your room, order a yummy sandwich or salad from the Deli Garden Café and enjoy lunch on their pretty patio.
Drive approximately 35 minutes to:
Driving range followed by 18 holes at Sierra Meadows Country Club's championship course. Located just south of Yosemite National Park in the beautiful Sierra Nevada, Sierra Meadows Country Club brings together a mix of lynx and target style golf which is enjoyable for the average golfer as well as challenging for the more advanced players. The course is 6,477 yards and 18 holes, lined with mature oak, pines and cedar, and it is common to see wildlife such as deer, turkey, geese and more.  The signature Hole #5 is a par 3 that requires a tee shot across water to a beautifully manicured green. Sierra Meadows is perfectly situated above the fog and below the snow and offers exceptional guest services and amenities
Return to the River Rock Inn for a patio dinner.
Walk less than a block to:
Prospectors Brewing Company. This micro brewery has taken a modern approach to period style by creating a contemporary taproom that draws from the rustic nature of historic Mariposa during the Gold Rush. The hand-crafted cement topped bar is framed with antique barn wood. The craft beers on tap are of the highest quality with no compromises.
DAY 5: Mariposa County to return home or Optional Yosemite National Park
Enjoy a relaxing morning in Mariposa exploring the Mariposa Museum & History Center, or get your last thrills in Gold Country at the Yosemite Ziplines and Adventure Ranch. Return home, or continue your adventure with a stop at Yosemite, just one hour from Mariposa.
Enjoy a Continental Breakfast at your leisure.
Enjoy an optional zip lining experience with Yosemite Ziplines and Adventure Ranch. The ziplines at Yosemite Ziplines & Adventure Ranch have been constructed as a 2 hour, six stage guide-led tour. Groups of eight to ten are geared up in helmets and harnesses, then driven up the mountain in Polaris Rangers as their guides explain safety procedures and describe the experience the zippers are about to enjoy. Must be at least 8 years old and weigh between 70 and 250 lbs (32-114 kg).

OR self-guided tour of Old Town Mariposa. Feel the old West as you stroll up the historic main street on wooden sidewalks or take a tour of the 1854 court house, the oldest court house west of the Rockies still in continuous operation. Experience the old days in the exhibits at the Mariposa Museum and History Center, named one of the best small museums in American by the Smithsonian Institute.
Lunch before departure to return home or visit to Yosemite National Park, about an hour from Mariposa. For full details on things to do in Yosemite, visit yosemiteexperience.com