Best known as the location of the Jumping Frog Contest made famous by Mark Twain in his story "The Celebrated Jumping Frog of Calaveras," Angels Camp is also home to one of the most picturesque historic downtowns in California's Gold Country, beautiful, Sierra Foothills scenery, boutique shops, a wonderful museum and a championship golf course. Get to know the historic downtown using this fun and entertaining scavenger hunt by Let's Roam.  Click the link below to learn more.
Mark Twain
Samuel Clemens' connection to Angels Camp not only launched his career as Mark Twain with his first successful short story based on a story overheard in the Angels Hotel's saloon, it also made an indelible mark on Angels Camp. Here, we celebrate our connection to America's master storyteller with Twain Talks at the Mark Twain Trading Post, a Mark Twain History Trail and an annual celebration: the Mark Twain Wild West Fest. You can read up on some Mark Twain history in this recent New Yorker article.
Calaveras Frog Jump
Inspired by the Mark Twain story that propelled him to fame, the Calaveras Jumping Frog Jubilee has been a feature of Angels Camp culture since 1928 when the first frog jump was held to celebrate the paving of Main Street. Today, it's a popular feature of the Calaveras County Fair – the longest running county fair in California. During the four-day festival, California bullfrogs collected from area ponds are housed in the "Frog Spa" and are available for rent if you'd like to jump a frog! Winners of the frog jumping contest receive a brass plaque in the Frog Hop of Fame in historic Main Street, Angels Camp, along with an impressive trophy and cash prize. Get full details on the Calaveras County Fair and Jumping Frog Jubilee.
Historic Main Street Angels Camp
Historic downtown Angels Camp is home to charming, boutique shops, the Calaveras Visitors Center, a bakery, two restaurants and the Utica Hotel, which is currently undergoing restoration. Stroll Main Street using our historic walk tour map in the back of the Calaveras Visitors Guide, and enjoy the Frog Hop of Fame.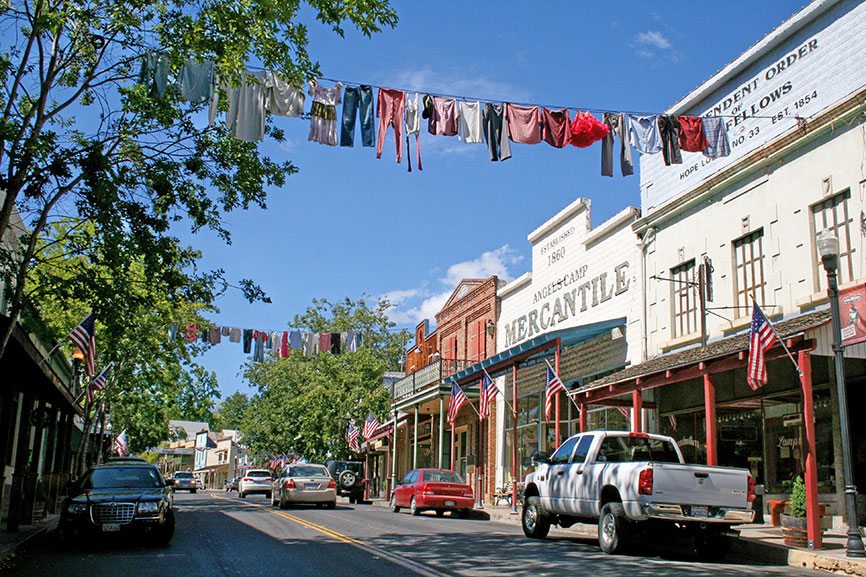 Angels Camp Museum & Carriage House
Home to one of the largest collections of carriages and wagons in the nation, Angels Camp Museum is an international destination with more than 30,000 square feet of exhibits on Gold Rush history. Visitors can stroll through the beautifully landscaped historical park to explore extensive indoor and outdoor exhibits that include a doctor's office, fascinating apothecary items and The Mark Twain Exhibit, as well as ranching and artisan exhibits. Gold panning is also available and the museum hosts multiple, fascinating and fun historical events year-round. Learn more about the Museum & Carriage House.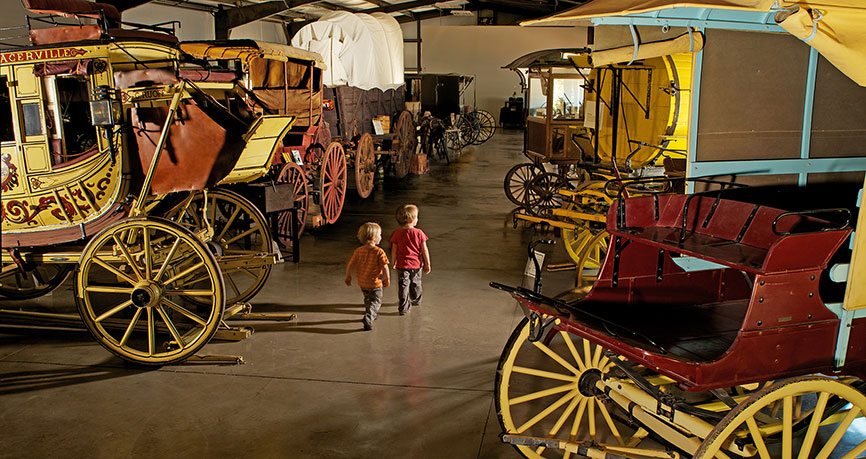 New Melones Lake
Nestled in the Sierra Foothills, Angels Camp also features one of California's largest reservoirs, with breathtaking views: New Melones Lake. Complete with a full service marina, pet-friendly camping and RV sites at the Glory Hole Recreation Area, visitor center and museum and miles of hiking & mountain biking trails, the lake is also a wildlife habitat and top fishing and water recreation location. Glory Hole Sports can fix you up with the best in fishing gear.
Greenhorn Creek Resort
This beautiful championship golf course, designed by Robert Trent Jones Jr. gets rave reviews from all skill-levels of golfers. Designed to be challenging yet friendly, the Greenhorn Creek course offers plenty of risk and reward, and the resort has great amenities. Stop in for lunch at CAMPS Restaurant, peruse the pro-shop or enjoy a glass of some of Calaveras County's premiere wines in The Cellar Room overlooking the course.
Does visiting inspire you to relocate?
Most people who live and work in Angels Camp are people like you, who first came as tourists and then never wanted to leave. Real estate in this charming part of California is surprisingly affordable and the community is very welcoming to newcomers. Friendly real estate pro, Vivian Danielsen, of Priority Realtors is your local expert on residential and business properties. If you'd like to open a business here, check out Destination Angels Camp for great incentives and support for new businesses. Get more information on the City of Angels Camp, from our welcoming city government.