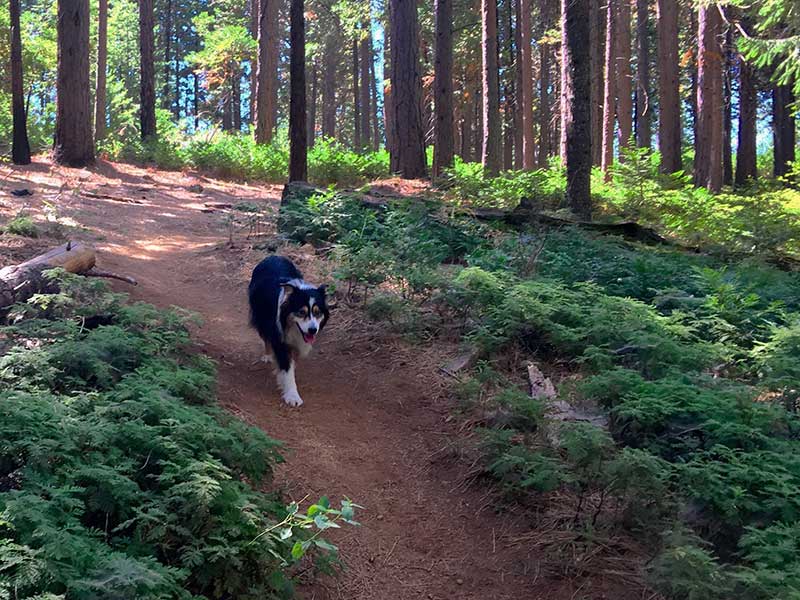 Dogs are allowed off-leash under voice control on the Arnold Rim Trail
Enjoy a Getaway with your Pups in Dog-Friendly Calaveras
You love your dogs and we do too! That's why we've put together a handy way for you to see which places are welcoming to dogs on your Calaveras getaway by including the dog-friendly icon, where appropriate, on all of our listings. We've also partnered with Dog Trekker to give you a full overview of Calaveras County dog-friendly places and resources. Just click the link above or the image to the left for full details. We also recommend checking out our latest blog on Traveling with Your Dog in Calaveras County.
Before bringing a dog on your Calaveras getaway, please follow these guidelines for the best possible experience for you and your pup(s):
Let your lodging property know you are bringing dog(s) before you make your reservation so they book you into one of their dog-friendly rooms / cabins / cottages.
Restaurants that are dog-friendly have outdoor seating areas where you are welcome to bring your dogs. Please do not bring your dog(s) directly into the restaurant (this also applies to small dogs in purses and backpacks) and be sure to keep your dog(s) on-leash at all times.
Dog-friendly wineries and vineyards may allow you to bring your dog into their tasting room. Please check before entering the tasting room and keep your dog on a leash at all times on the property unless otherwise specified.
Some outdoor recreation areas will allow dogs off-leash but only if specified. Otherwise, please keep your dog on a leash.
If you are unclear about the dog-friendly rules of a particular business, please call ahead to check.
If you are bringing your dog(s) on any of our trail systems, bring plenty of water for your dog and be sure to pack your dog's waste out so the trails are kept clean for the next dog-loving visitor.
Planning to go wilderness hiking with your dog(s) and need suggestions for equipment? Check out this cool blog by Amy Jurries: Gear for backpacking with your dog. Check with SNAC and Ebbetts Pass Sporting Goods about purchasing any of these, or similar, items locally.
Want more tips on hiking with your dogs? Check out this helpful and informative article from MyOpenCountry.
Videos of "Lily" loving dog-friendly Calaveras
There's something so irresistible about this GoPro video of border collie, Lily enjoying the dog-friendly Arnold Rim Trail. Provded by local hiker and dog-lover, Sandi Pearce, we think you'll agree this video is a must-see providing fascinating insight about what captures her dog's attention, directly from the pooch perspective 😀

We love this GoPro video of border collie, Lily, and friends enjoying cross-country skiing trails behind Tamarack Lodge in dog-friendly Calaveras County. Get your trail passes from Bear Valley Cross Country – good for you and your pooch and hit the trails for some awesome winter wonderland fun.

This video was made by talented, local videographer, Sandi Pearce of Sierra Sentry Mountain Home Services.
---
We'd love to share your Instagram and Facebook photos featuring your dog(s) having fun in Calaveras. Just tag your photos with #lovingcalaveras so we can find them 🙂