Bear Valley Mountain is a friendly and relaxing High Sierra escape located in the beautiful Central Sierra Mountains. Nestled off Scenic Highway 4, this year-round destination offers activities from relaxation to extreme adventure in every season. Whether you're looking to get your heart racing or to just slow down and savor the Sierra, Bear Valley is the perfect destination to enjoy the outdoors as Mother Nature intended.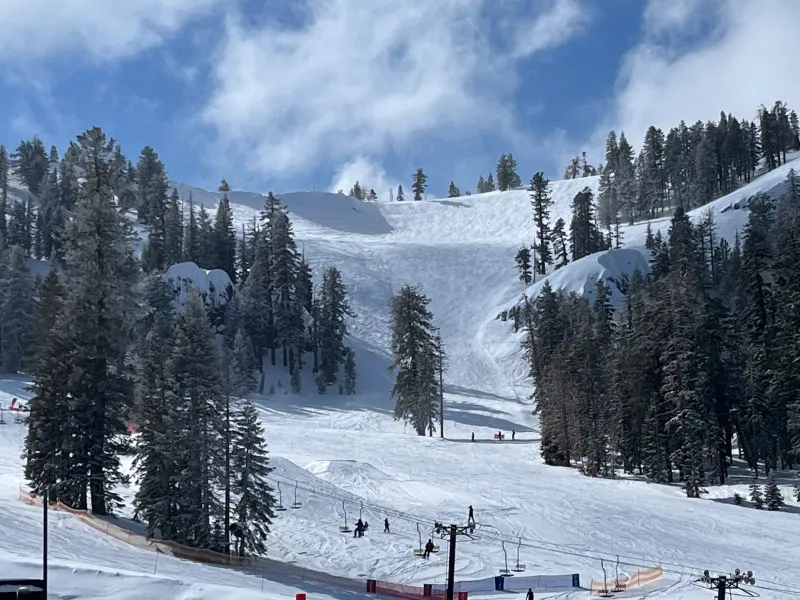 See Bear Valley from a brand new skier from Jonathan Berg, travel writer for www.theroyaltourblog.com.
A spectacular snow sports destination,  Bear Valley averages over 30 feet (9 meters) of snow annually at its 8,500-foot (2591-meters) summit and features  67 runs, 1900 vertical feet (579 meters), 10 lifts and a  beginner carpet lift.  Lift tickets, rentals and learn to ski/board packages plus child care for age 2+ are all available.
Starting July 2, 2022, Skyline Bear Valley Resort is opening two mountain biking trails, both accessible by a highspeed chair lift recently outfitted with bike carriers. More than four miles of trails integrate berms, bank turns, tabletops, and other features mountain bikers expect on a proper biking trail. The operations teams at the resort have been building the trails for the past several months, along with dozens of volunteers from the Bear Valley Trail Stewardship nonprofit organization. The new trails integrate the existing trails throughout Bear Valley and create a complete loop between the Bear Valley Lodge and the Village.  "The Central Sierras are an up-and-coming mountain biking scene, every weekend we see more and more bikers in the valley; our new lift access trails give enthusiasts a fuller experience.," commented Tim Schimke, director of operations at the resort.  Also opening is a skills park for people to hone their abilities before heading up the mountain.  There will be a DJ on deck and food available for purchase. High-end equipment, including Norco mountain bikes and e-bikes are available to rent, on a first-come-serve basis.  The trails on the Bear Valley eastern slope operate on a year-round special use permit from the Stanislaus National Forest Service and require a lift ticket to access.  Tickets can be purchased at the resort. For more information visit www.bearvalley.com/mountain-biking.
Bear Valley Mountain is also a summer playground surrounded by two of California's largest federally designated wilderness areas, the Mokelumne Wilderness and Carson-Iceberg Wilderness, where hiking, biking, fishing, kayaking and rock climbing are spectacular.