Calaveras Big Trees State Park recreation includes hiking through North and South Grove trails, fishing in Beaver Creek and the Stanislaus River and mountain bike riding on miles of fire/dirt roads in the park in summer, and Nordic skiing and snowshoeing in the winter. Click here for park brochure for trail maps. 
Read travel writer, Jonathan Berg's take on visiting Calaveras Big Trees in the winter and summer seasons at www.theroyaltourblog.com.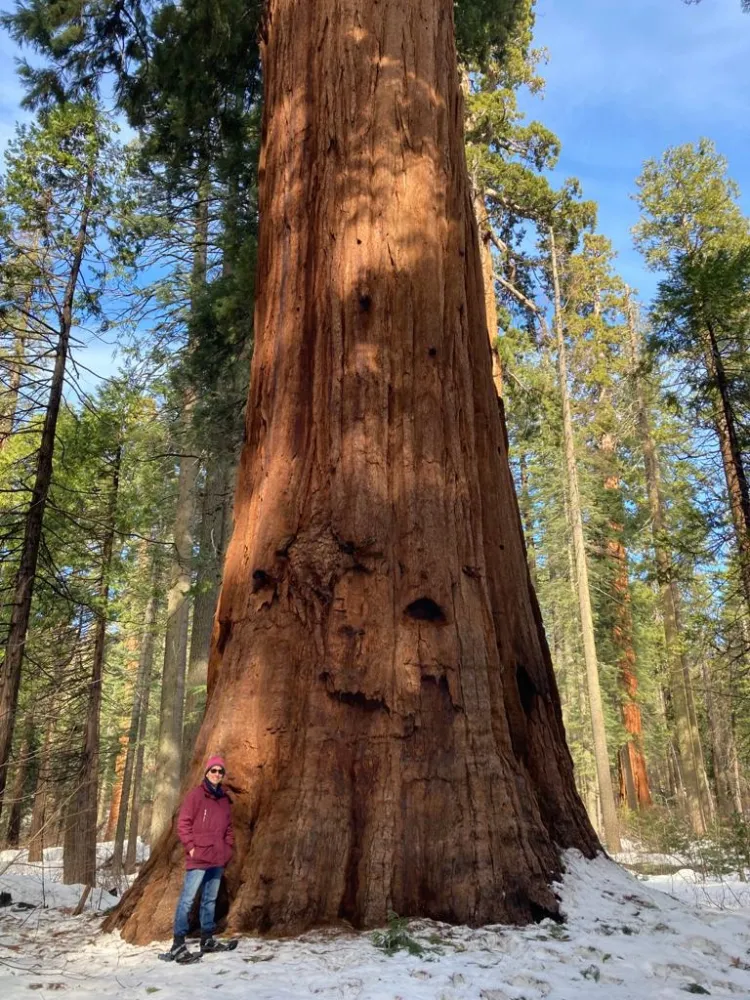 Calaveras Big Trees State Park Recreation: NORTH GROVE
The North Grove offers close-up spectacular views of majestic giant sequoias along its nearly level 1.5 mile (2.3 km) loop. In the Spring, large patches of Pacific Dogwoods are in bloom, and in Fall, their leaves turn gold, orange and red, lending even more beauty to the park. There is a downed giant sequoia with access to its hollow interior that visitors love to walk through – and of course, this is especially popular with kids. Expect to take approximately one hour to hike the North Grove trail and if you have youngsters in strollers, this is the trail for you.
A free, guided hike is available at 1:00 pm each Saturday, given by a knowledgeable docent or ranger. These hikes are filled with amazing information you won't get anywhere else – so if you want to know more about the flora, fauna, and history of this beautiful place, do plan on trying to join one. If you can't, you can get some of that great information from their Guide to the North Grove Trail.
The Three Senses Trail at the North Grove, opposite The Discovery Tree stump, was designed for the blind with a rope-guided route and Braille text. But it's also a wonderful trail to take your sighted friends, family and children on. Have them close their eyes and use the rope to guide them around the trail. At each marker, one of your group can read an instruction to listen, smell or touch – for something specific as described on the marker. The experience will help you to use your other senses to fully experience, and enjoy the features of the park, to slow down and pay attention to nature.
From the North Grove, you also have access to the Grove Overlook Trail which is sometimes steep and not appropriate for strollers. It climbs part way up the ridge to give you views of the upper levels of the trees. This trail loops back to the North Grove – but it also gives you access to a further trail, the River Trail.
In winter, the Warming Hut across from the Visitors Center offers an indoor fire, hot chocolate and hot cider. Guided snowshoe tours start here on Saturdays and some holidays at 1:00 pm. Lender snowshoes are available on a first-come, first-served basis, or bring your own. You can also bring your own cross-country skis or snowshoes and travel the North Grove trail or the 3.5 mile loop out the park road and back through the campground as a self-guided trip any day of the week.. The North Grove is the perfect place to bring the family on snowy days; build a snow person, ride a sled, have a snowball fight with the fam or simply marvel at the beauty.
Don't miss your opportunity to check out the fantastic visitors center and museum while you're in the North Grove. There's also a very comfy seating area in the gift shop for those who are pooped out from their hike, or just need a little rest.
Calaveras Big Trees State Park Recreation: SOUTH GROVE
The South Grove Natural Preserve, which is only accessible via cross-country skiing in the winter, opens every spring in late April and is closed in mid-November. The trail begins with a crossing of Beaver Creek featuring 130 million year old granite. This is a great spot to sun yourself, fish, swim or rock climb.
The South Grove affords views of the ancient forest in its pristine form, and nearly 10 times as many giant sequoias as can be seen on the North Grove trail. Depending on your route, your hike here can be between 3.5 and 5 miles long. A side trail about halfway along takes you to the largest of the giant sequoias at Calaveras Big Trees State Park: The Agassiz Tree, pictured below.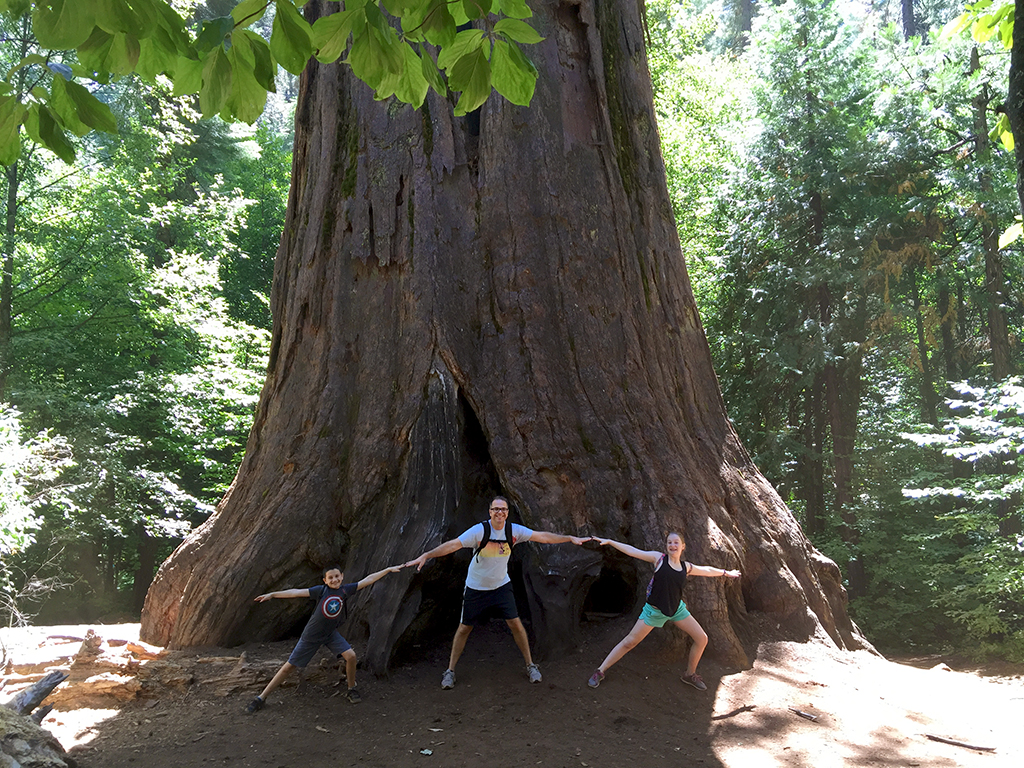 This trail system gives you more of a wilderness experience and gains in elevation approximately 200 feet on the first half, and descends back down on the second half of the loop. It's a much more rugged hike requiring good hiking footwear and plenty of water to hydrate. Bring mosquito repellent too, because its proximity to Beaver Creek means you'll have more mosquito encounters on this trail than on the North Grove Trail. That being said, this trail is AMAZING. You will find far fewer visitors, even on holiday weekends, and will see the largest of the giant sequoias. If you are an avid hiker, this trail is for you. Follow our tips on what to bring on your hiking trip on our Hop Lightly page.
You can get a good overview of the features of this trail from Jennifer Bourn's blog, Inspired Imperfection, where she shares her experiences on a September 2016 hike at the South Grove with her husband and two children. We love this article because she gives detailed information with helpful hints accompanied by great photos that will hopefully inspire you to visit. Check out her North Grove article too, although bear in mind that due to severe winters storms, the Pioneer Cabin Tree mentioned in her article, was destroyed a few months after her family's trip.
Calaveras Big Trees State Park also has two of the most beautiful campgrounds with 129 campsites in Calaveras County (in both the North and South Groves). The North Grove campground is available March through November, while the Oak Hollow Campground is available when the South Grove opens. If you'd rather stay in a structure, there are also cabin rentals available year-round.
Calaveras Big Trees State Park Recreation: BRINGING YOUR DOG
Dogs are welcome in the park on leash in developed areas like picnic sites, campgrounds, paved roads and dirt roads. Dogs are not allowed on the designated trails, nor in the woods in general.  There are several miles of fire roads for you and your dog to enjoy; however, you will not be able to see any of the giant sequoias from these roads.
Although service dogs are permitted everywhere throughout the park, comfort dogs do not qualify as service dogs and are therefore restricted to the campground, paved roads and the fire roads.
Calaveras Big Trees State Park Recreation: MORE INFO
Related links: Calaveras Big Trees Association | Hiking maps | Camping | Hop Lightly