⚠ ADVISORY: This fragile ecosystem needs your help. As one of the most popular wilderness destinations in our county, it is up to each visitor to make sure we all do our part to preserve the beauty of the area for generations to come. Please visit the Know Before You Go advisory at the bottom of this page for ways you can visit Natural Bridges responsibly. Parking along Parrotts Ferry Road is not allowed. ⚠
The Natural Bridges trail is a beautiful two-mile round trip hike will lead you to spectacular limestone caverns that have been carved out by Coyote Creek which feeds into New Melones Lake. Maintained by the US Bureau of Reclamation, this natural feature is one of their recommended trails when visiting New Melones.  Spring is especially pretty with all of the wildflowers on the trail.
The trailhead is off Parrotts Ferry Road. You will need to look for the brown "Natural Bridges Day Use Area" sign on the side of the road. Due to the geological sensitivity of this outstanding natural formation, dogs and bikes are not allowed.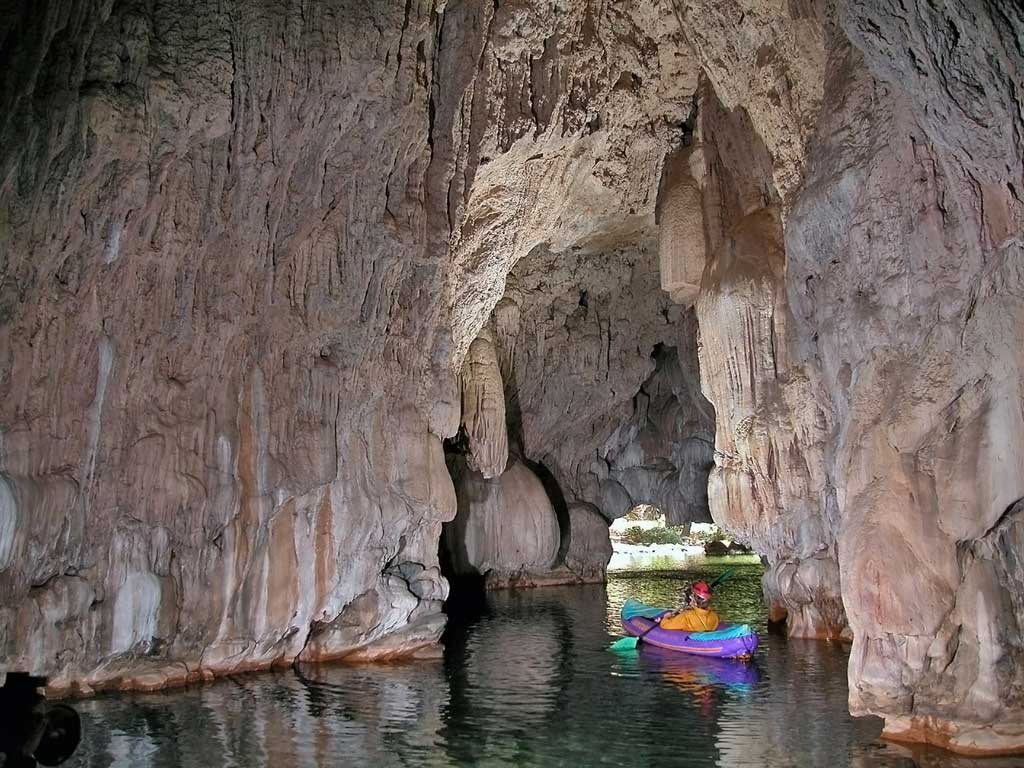 This is a popular hiking spot and paid parking is limited. On weekends, it may be quite crowded on the trail and/or at the feature. If at all possible, we recommend mid-week visitation in the summer. Parking along Parrots Ferry Road is not allowed, and vehicles may be ticketed.
Please help us keep Natural Bridges beautiful by following our Hop Lightly guidelines. Be sure to pack out anything you take in with you.
Getting There: From Highway 4, turn onto Parrots Ferry Road. Go about 4 miles and park at the marked trail head on the right. The water is very cold, but it is a fun swim, wade or raft through formation. Especially in the spring, watch for swift currents and changing water levels. You will have to bring your own inflatable raft or other equipment. Make sure to wear good hiking shoes…this is not the trail for flip flops and stay on the trail to best avoid poison oak.
⚠ ADVISORY (cont'd):
Know Before You Go: If you arrive and find the parking lot is full, to help reduce impact on this fragile ecosystem, please enjoy one of our dozens of other spectacular water trails throughout the county instead, and/or plan to return to Natural Bridges midweek. Parking along Parrotts Ferry Road is not allowed, and cars may be ticketed. Lower usage hours are before 9 am and after 5pm.
Heavy usage of any trail system negatively impacts plants, wildlife, and the natural beauty and enjoyment of the trail.
Because this is already a very heavily trafficked trail–for the preservation of this beautiful icon, Natural Bridges–it is all the more critical that we remember (1) leave dogs and bikes at home (2) there are no services available at this trail, (3) stay on trail and (4) be prepared to carry out all trash you bring on the trail. Want to live like a local? Go the extra mile by packing out any trash you see along the way as well. ⚠
Thank you for doing your part to preserve our beautiful resources for future generations. 
Trail map by USBR. Click to download PDF.