From incredible vineyard amphitheaters with household names to multiple Grammy award winning folk artists performing on hilltop stages, High Sierra classical, jazz, and rock concerts, and intimate park side venues featuring indie artists galore–there are enough concert venues and musical talent in Calaveras to completely satisfy your need for great live music. Read on to find the Calaveras summer concert venue that is just right for you.
THIS JUST IN!! – Calaveras County Fairgrounds
1.
Calaveras Concert
Season
– Ironstone Amphitheatre
If you're looking to go BIG, you won't want to miss your favorite household name artists playing at the expansive Ironstone Vineyards Amphitheatre. Whether laughing with old friends or dancing with new ones–Ironstone Amphitheatre knows how to put on a show you'll long remember. The 2023 line-up features household names such as Hank Williams, Jr., Chris Isaak, Slightly Stoopid with Sublime and Rom, and the "I Want My 80's Tour" featuring John Waite, Tommy TuTone, The Hooters, and Rick Springfield showcased in the largest concert venue Calaveras County has to offer.  Pack some blankets and hit the vendor booths for good eats, great beer and award-winning Ironstone Vineyards wine at this family-owned and operated vineyard in the charming town of Murphys, California.
2. 
Calaveras Concert Season
–
Bear Valley Music Festival

Get a sneak peek of the Bear Valley Musical Festival by watching the video above. 
Looking for high culture in the serene the peaks of the Sierra Nevadas? Look no further than Bear Valley Music Festival.  Celebrating the 55th anniversary in 2023, the Bear Valley Music Festival began in 1968. Now under the direction of Maestro Alexander Mickelthwate, who also serves as Music Director of the Oklahoma City Philharmonic and Music Director Emeritus of the Winnipeg Symphony Orchestra in Canada, the Festival's styles of music to be found are diversified from classical to Broadway show tunes, contemporary, rock, reggae, folk, blues, country, and opera. However, the core of the event remains rooted in classical music.
From late-July through early August, this epic alpine festival brings national and international performers to delight audiences at 7,000 feet in the Sierras. To get a glimpse of what Bear Valley Music Festival has to offer, make sure to watch the video featuring the beauty of our little piece of heaven in the Sierras and the history of this truly wonderful music festival.
See who's playing during the week of your visit on our on-line calendar of events or view the full line up and buy Bear Valley Music Festival tickets.
3. 
Calaveras Concert Season
–
Brice Station Hilltop Concert Series
Calaveras is full of magical places, and Brice Station certainly is one of them. Brice Station Vineyards features the perfect blend of laid back culture with award winning art and entertainment. Featuring not only our very own, world-class, and outdoor Shakespeare on the Vine performances, but also their annual Hilltop Concert Series. The annual Brice Station Hilltop Concert Series brings a summer full of deliciously eclectic live music in a venue overflowing with rustically earthy ambience. You can't help but feel instantly at home while enjoying a glass of handcrafted wine, locally sourced food, and spirited music in this relaxing and beautiful environment. Nestled among towering trees on the open lawn; here is your chance to kick off your shoes, unplug, and enjoy live music kissed by a gorgeous sunset view.
4.
Calaveras Concert Season

– Twisted Oak Winery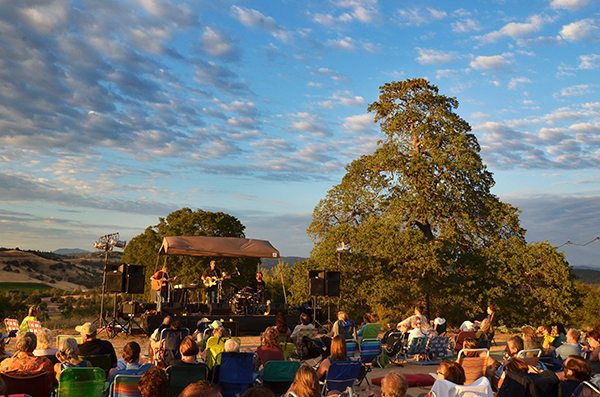 Travel through the Rubber Chicken Forest to a beautiful winery with amazing views to sit back, relax, and enjoy some of the best local musicians from right here in Gold Country and the Sierra Nevada Mountains.  Bring your blanket or low-back chair, then once you have your wristband, wander over to the stage area and choose your spot. Even for a full event there are no "bad seats" – there is a great view of the stage from all locations, not to mention a great view of the surrounding countryside! Note the different start times as they like to start the concerts at sundown, so you can enjoy the music under the stars. Well-behaved dogs on a leash whose owners pick up after them (if necessary), are welcome.
You are welcome to bring your own food, but, please, no outside alcoholic beverages (for licensing reasons). Specializing in wines that are a little different, made from Tempranillo, Grenache, Mourvedre, Viognier, and more, Twisted Oak is serious about making the stuff, but once the wine is in the bottle, the fun begins! 
5.
Calaveras Concert Season

–

Music in the Parks 
Sponsored and organized by the Calaveras Arts Council (CAC), the annual Music in the Parks series on Wednesdays is just one of the many amazing events the CAC puts on throughout the county each year, such as their annual Calaveras Artist Studio Tour. Each Wednesday at 6:30pm from June to August, join locals, visitors and the Calaveras Arts Council alike at concerts at different parks throughout the county each week.
First Fridays is sponsored by the Murphys Community Club, a non-profit, all volunteer organization created in 1948.  Murphys Community Club is pledged to the improvement and benefit of the Murphys community, and maintains the Murphys Park entirely through donations, park rental, and volunteers! Join them on Fridays at 5:30 PM, the first Fridays June through September. Bring a chair or blanket or find the perfect picnic table by the creek!
6.
Calaveras Concert Season

– Live Music Everywhere!
Wineries like Renegade in Mokelumne Hill or Jazz Cellars in Murphys, restaurants like Snowshoe Brewing Company in Arnold and The Watering Hole in Murphys, and community parks and farmers markets offer opportunities to enjoy great live music in Calaveras County almost every weekend.
The Beer Garden at the Camp Connell Store is a family and dog-friendly venue offering live music every Saturday (and some Fridays) in the summer from June to August.
Forest Meadows Golf Course is having concerts this summer June through October – check out their line up here.
BONUS:
Mark your calendars for the Blues and Bones Festival in September at the Calaveras County Fairgrounds. Laid back and family-friendly, come enjoy some of the best traveling blues bands in the country and some award winning BBQ! 
See who's playing the week of your visit by checking out our online calendar of events or giving us a call 7 days a week at 1-209-736-0049.
Need help finding something in particular? Give us a call 7 days a week at 1-209-736-0049 or send us an email at info@gocalaveras.com.