Calaveras is home to lakes and streams like no other. From the boat or the shore, on one of the several gorgeous lakes or on the Stanislaus River, there is something for every angler. Read on for places all over Calaveras County to go fishing and who the experts are to make your fishing dreams come true!
Lake Fishing
New Hogan Lake
LOCATION: Part one of the Valley Springs tri-lake area, 30 miles east of Stockton.
ACTIVITIES: New Hogan Lake is the perfect place for camping, water sports, fishing, hiking, mountain biking, and horseback riding. Note: there is no marina or fuel service, so come fueled and ready to go.
LOCALS TIPS: Grab a bite at one of Valley Spring's outstanding restaurants including craft beer and burgers at Brew'Gers or Hawg Dawgs Bar and Grill. Work up a sweat at La Contenta Golf Club, before you cool down at this luscious lake. Boat-in camping is available at Deer Flat Campground—just one of New Hogan's three idyllic campgrounds.
DOG FRIENDLY: Yes, while on a leash no longer than 6′ and attended at all times.
WHAT'S BITING: Stripers, Bass, Trout, Crappie, Catfish, Bluegill.
Lake Camanche
LOCATION: Part two of the Valley Springs tri-lake area, Lake Camanche has 54 miles of shoreline and 7,700 surface acres of water.
ACTIVITIES: Camping at Lake Camanche can be done all kinds of ways. There is tent, RV, group, equestrian, cottages, and vacation home rentals.  Fishing, boating, and even weddings all happen at this beautiful lake.
LOCALS TIPS: Get your boat and gear rental at the Marina Stores located on both the North Shore and South Shore of Lake Camanche. Load up on grub in Valley Springs at The Parlour Pub or La Contenta Golf Club Bar & Grill.
DOG FRIENDLY: Dogs are welcome on a 6′ leash and must be attended at all times.
WHAT'S BITING: Rainbow trout, Largemouth Bass, Smallmouth Bass, Bluegill, and Spotted Bass
New Melones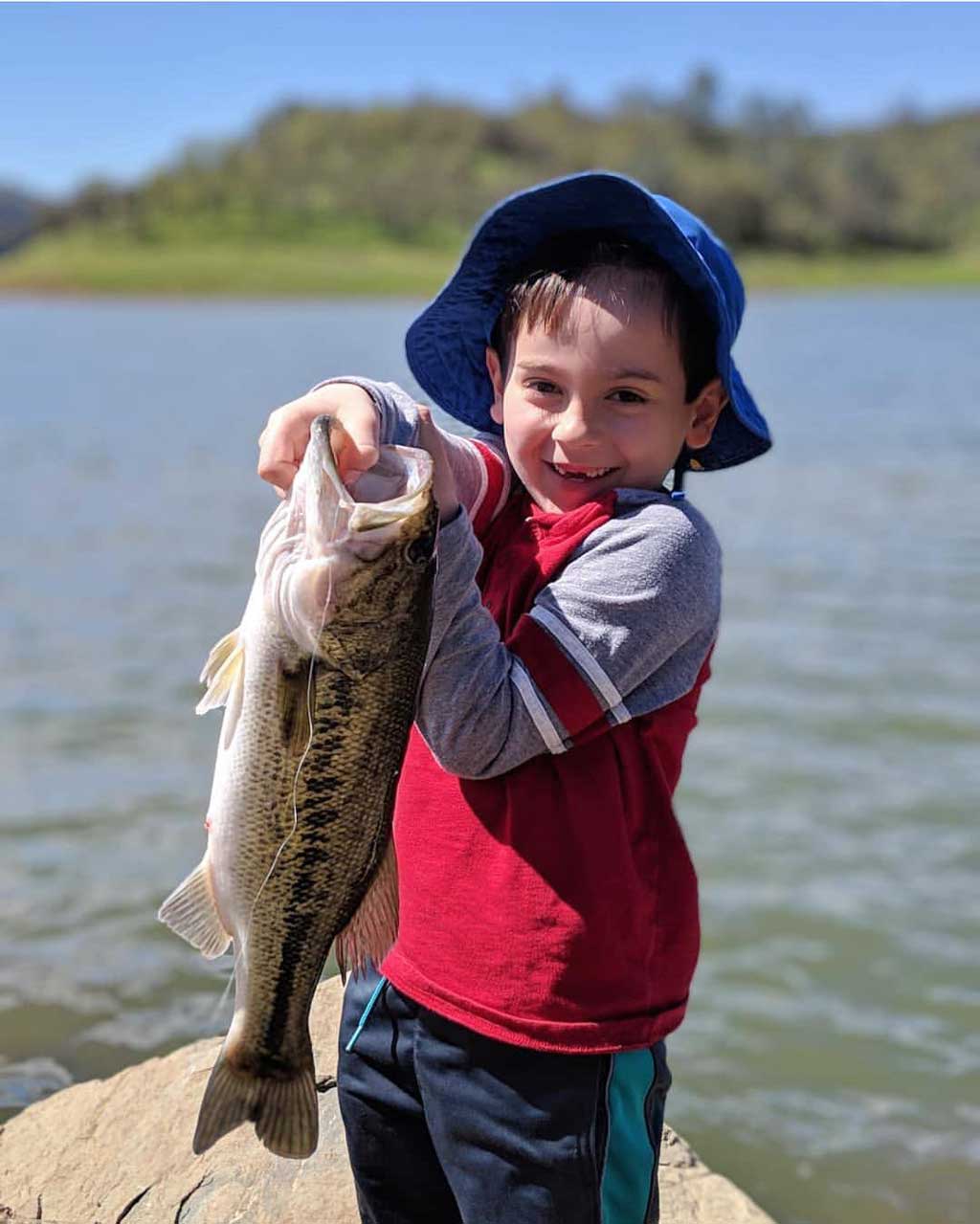 LOCATION: Glory Hole Recreation Area or Tuttletown Recreation Area off of Highway 49 three to five miles south of Angels Camp, CA
ACTIVITIES: Boat launches, Camping, Fishing, Hiking, Swimming. 
LOCALS TIPS: Rent kayaks from On the Lake Kayaks in downtown Angels Camp, and all sizes of boat and watercraft at New Melones Lake Marina. Grab a sandwich to go at The Pickled Porch Cafe or the Red Ridge Restaurant in downtown Angels Camp.
DOG FRIENDLY: Yes!
WHAT'S BITING: Rainbow and Brown Trout, Largemouth and Smallmouth Bass, Bluegill, Kokanee Salmon, and Channel Catfish. 
White Pines Lake
LOCATION: Located of Blagen Road in Arnold, CA, this sweet little mountain lake is a great place to bring the whole family to fish, picnic, and swim.  
ACTIVITIES: Fishing, non-motorized watercraft, swimming, beach picnics
LOCALS TIPS: Stop in to see Bill at Ebbetts Pass Sporting Goods in Arnold to find out everything about fishing in the area.  You can get everything you need from license to gear to what's biting and when here.
In the summer, check out the Sierra Nevada Logging Museum and let the kids play on the playground by the lake. The Arnold Rim Trail is right here for great hiking, mountain biking, and equestrians. Check out Bistro Espresso for coffee to go or head to Giant Burger for a to-go lunch at the lake.
DOG FRIENDLY: Yes!
WHAT'S BITING: Rainbow Trout, Largemouth Bass
Lake Alpine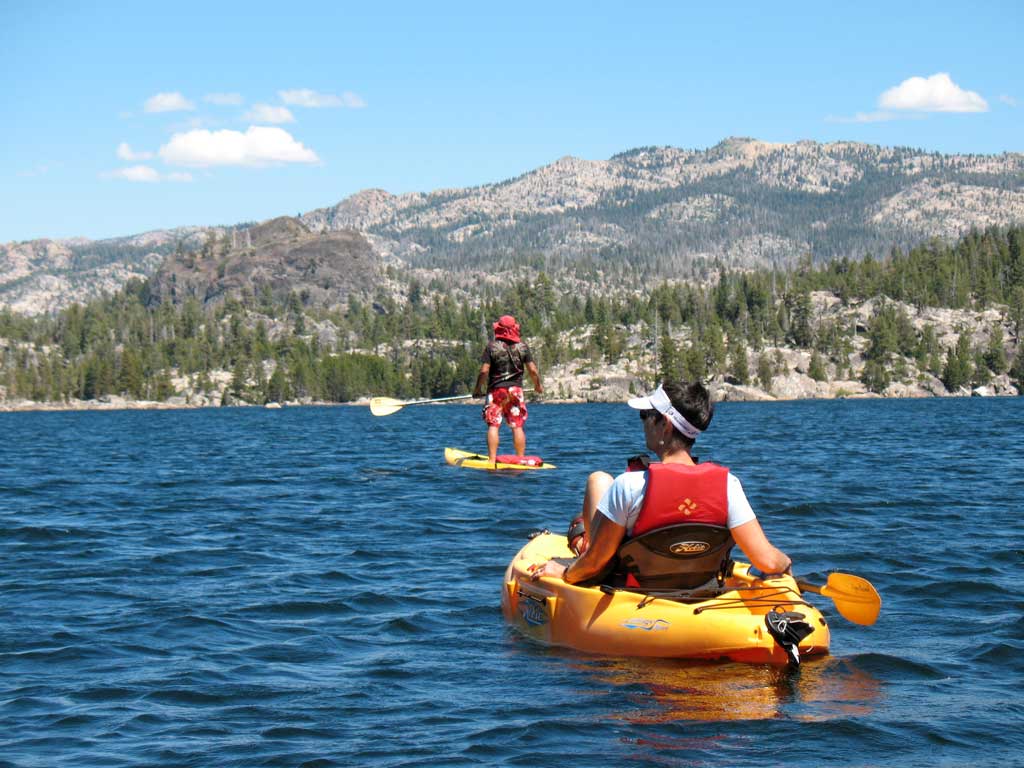 LOCATION:  Highway 4 just past Bear Valley
FEATURES: Shoreline fishing, non-motorized, small watercraft like canoes, kayaks and paddleboards. These can be rented at the Lake Alpine Resort right on the lake or at Sierra Nevada Adventure Company in Arnold.
DOG FRIENDLY: Yes, on a leash no longer than 6′ and attended at all times
WHAT'S BITING: Rainbow Trout
Spicer, Union, and Utica Reservoirs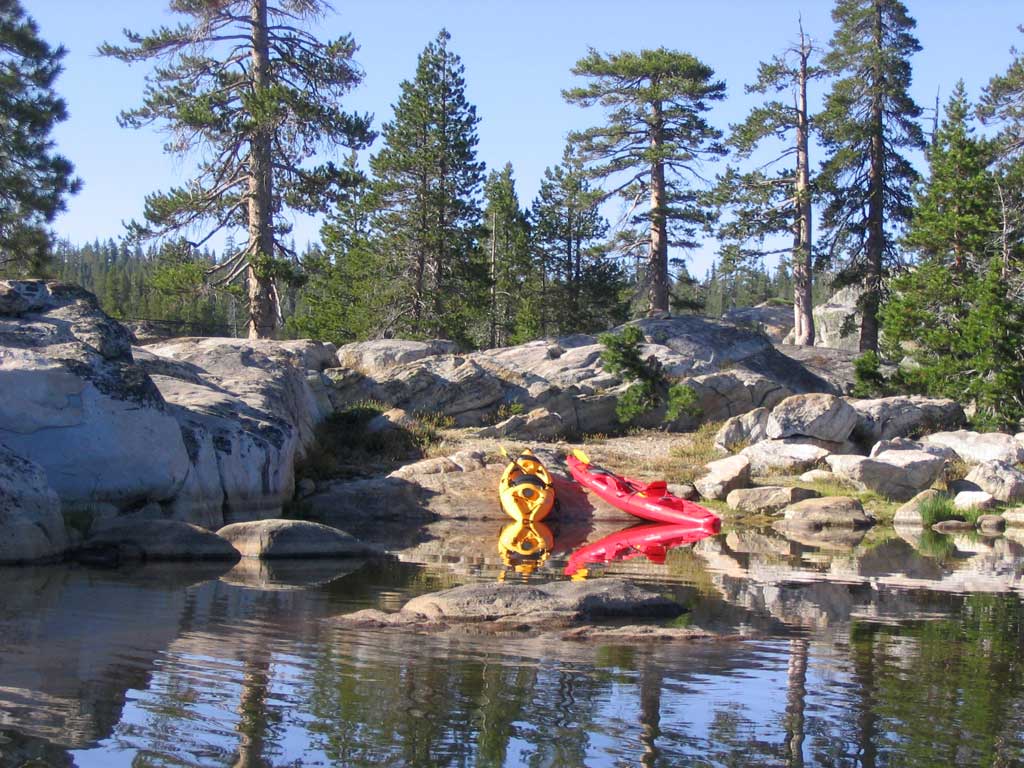 LOCATION:  Each reservoir is located about an hour and a half from Angels Camp. Take highway 4 east from Angels Camp for each reservoir and each reservoir is about a half hour off the highway.  There are plenty of small streams along the way you might want to check out, as well.
FEATURES: Great for camping, boating, swimming, and fishing. Spicer has the best options for boat ramps, Union has a small, unimproved boat ramp for small boats, and while Utica does not have a boat ramp, it is popular for small water crafts like canoes, kayaks, and paddleboards. Small watercraft can be rented at Sierra Nevada Adventure Company in Arnold, CA.
DOG FRIENDLY: Yes!
WHAT'S BITING: Rainbow and Brown trout and bull-head catfish
Stanislaus River
Calaveras Big Trees State Park – Drive into the park to the South Grove that crosses the Stanislaus River. Great place to fish for Rainbow Trout. 
Board's Crossing and Sourgrass –  About 4 1/2 miles past Big Trees State Park, turn right onto Board's Crossing Road to get to the North Fork of the river. Another great place for Rainbow Trout. There is a day use and camping area available at this scenic river. Watch for rapidly moving water, especially in the spring, and by late summer and early fall the river tends to slow down a little bit.
Outfitters and Experts
Arnold, Bear Valley, Camp Connell, Dorrington: Ebbetts Pass Sporting Goods
Murphys: SNAC – Sierra Nevada Adventure Company
Copperopolis: Gateway Adventure Company
Valley Springs: Lake Camanche Resort and Marina
Local Fishing Guides:
BONUS INFO!
Looking for a Father's Day idea? Treat Dad to a day of Grillin' and Fishin' – fly fishing and bbq at Ironstone Vineyards on their Lakeside Lawn. Live music by Plan B! For those interested, Arnold's "The Trout Spot" will be on site to give pointers about fly tying & fishing. Bring your own pole! Food, beer, wine and brandy will be served from 12-3pm.