There's so much to see and do in Calaveras that it can be hard to decide what attractions to include in your getaway. That's why we've put together this handy guide to hitting the highlights. Don't want to miss anything? See the full list of attractions in the entire county and beyond.
Calaveras Top Attractions: 1. Calaveras Big Trees State Park
If you only have time to visit one attraction, this should be it. Calaveras Big Trees State Park is where giant sequoia trees were first discovered by non-native peoples. Larger than coastal redwoods–giant sequoias can live to be more than 3,000 years old. While you can drive through the park, the best way to see the giant sequoias is on foot year round.
Combining awe-inspiring nature and historical significance, the most popular section to explore for people of all ages and levels of mobility is the well-marked North Grove Trail–an easy-paced, level 1.5 mile loop that highlights the first giant sequoias discovered by settlers. Begin or end your adventure at the recently remodeled Calaveras Big Trees Visitor Center and Museum that is free with admission to the park.
In addition to the North Grove, and Visitor's Center, the park also features the South Grove (including a five mile hiking trip through the densest section of giant sequoias in a spectacular setting) as well as access to the Stanislaus River, Beaver Creek, and the additional Lava Bluff Trail and Bradley Trail. During the Summer enjoy evening ranger talks, numerous interpretive programs, environmental educational programs, junior ranger programs, hiking, mountain biking, bird watching and activities for school children.
Want to learn more about Big Trees through the seasons? You can enjoy them any time of year – snowshoes are available on loan for winter hiking on the North Grove trail (on a first-come, first-served basis), and there's also a warming hut with hot chocolate and cider to get you toasty after your frosty hike. Fall features beautiful autumnal colors from black oak and dogwood trees, and spring features blooming dogwoods and the opening of the South Grove trail. Summer is warm and fragrant with plenty of wildlife, educational events, and continued access to the South Grove and Beaver Creek. This is truly a four-season attraction.
For those interested in staying overnight, the park also houses two main campgrounds open year round with a total of 129 campsites, six picnic areas and several miles of established trails.
Calaveras Top Attractions: 2. Ironstone Vineyards and Amphitheater
Picture perfectly manicured grounds with meandering pathways and little secret spots; a large tasting room and deli with a spectacular two storey fireplace and lots of yummy gourmet items – plus dining outside; a music room with an Alhambra organ (which they're happy to demonstrate for you if you'd like); and last but definitely not least, their Heritage Museum and Jewelry Shop.
Here they have a walk-in safe where you can view the largest crystalline gold specimen ever pulled out of the Mother Lode a massive 44-lb specimen that you have to see to believe. Over the years, they've collected lots of interesting Native American and Gold Rush era artifacts you can also see here, and their shop includes jewelry and décor items of the highest quality, with a connection to the California Gold Rush.
Nestled among these beautiful grounds, if you're visiting during the right time of the year, you may even get to participate in one of their gorgeous annual events, such as Concours d'Elegance, the annual Daffodil Show (featuring thousands of naturalized daffodils and more), one of their spectacular holiday events, or an epic night under the stars during the Ironstone Summer Concert Series (with wide ranging household names from Willie Nelson to The Counting Crows and beyond).  Learn more about Ironstone Vineyards here.
Calaveras Top Attractions: 3. Caves
Did you know that lil ol' Calaveras has more show-caves than any other county in California? These caves include California Caverns, Mercer Caverns and Moaning Cavern. Want to decide for yourself which cave is best? First, we'll have to explore what makes them different. Let's begin with California Cavern, State Historic Landmark – the first cave discovered during the Gold Rush, which now offers two amazing wild cave expeditions along with level guided walk tours–the best cave for those with limited mobility. Want to discover some of the secret features of California Cavern, that might make this your favorite cave in California? Visit California Cavern's page to learn more. Next up we have Mercer Caverns, the longest continuously operated show-cave in the Gold Country. Situated just outside of Murphys, this cave features 16 flights of stairs interspersed with level walking, a great cave to see formations up close and personal. Learn more about Mercer Caverns. And last but certainly not least, we have Moaning Cavern Adventure Park. Moaning Cavern features the largest cave chamber in California–it's big enough to fit the Statue of Liberty inside of it! This cave offers walking tours plus expeditions and above ground zip lines and climbing tower.
Phew! That's a lot to choose from, but we recommend visiting at least one. They're each different enough that if you have time, we strongly recommend checking them all out…each cave offers something unique. Happy exploring!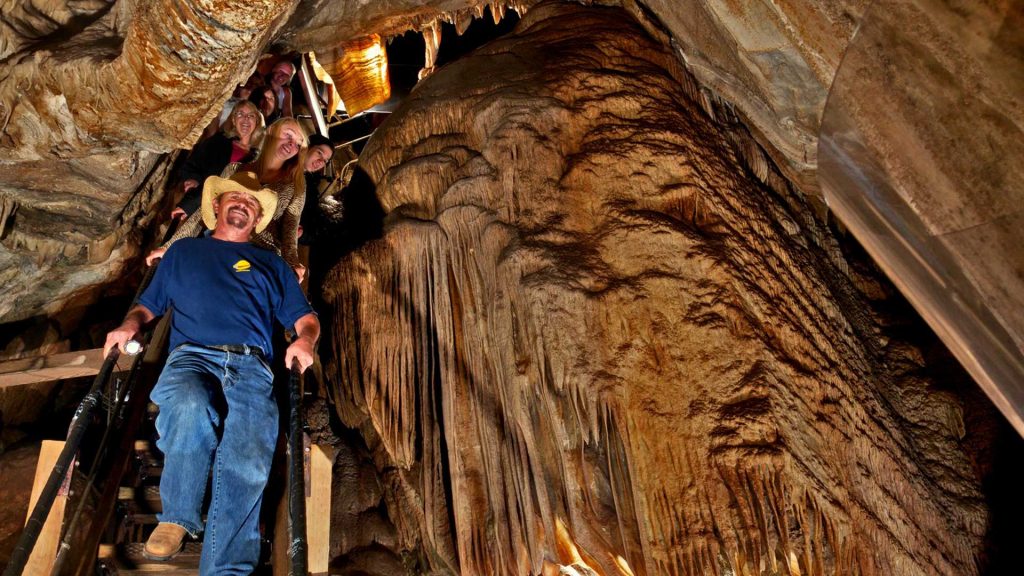 Calaveras Top Attractions: 4. Beautiful lakes
With more than a dozen lakes access via Calaveras County, the first question to consider is are you looking for high elevation alpine lakes or warm and sunny low elevation lakes? Calaveras County's lower elevation Sierra Foothills lakes are a major attraction for kayaking, fishing, boating, swimming (except for Pardee), hiking, camping and biking. Three of these large reservoirs, New Hogan, Pardee and Camanche, are located in Valley Springs' Tri-Lakes area and each offers its own unique experience, but all offer abundant outdoor recreation, wildlife viewing, stargazing and camping. Staying closer to Highway 4? Lake Tulloch in Copperopolis is another fun lake to enjoy. The largest Calaveras lake, located in Angels Camp's Glory Hole Recreation Area is New Melones. In addition to all of the classic lake offerings, New Melones Lake offers houseboat and party-boat rentals.
At higher elevations, High Sierra lakes accessed within and via Calaveras County include White Pines Lake, Lake Alpine, Utica Reservoir, Union Reservoir, and Spicer Reservoir (to name a few!). Charming White Pines Lake, situated right next to the Sierra Nevada Logging Museum and a trailhead for the Arnold Rim Trail, is a family-favorite for fishing, swimming, playing on its sandy beaches, boating, kayaking and enjoying a playground area. For those looking to get off the beaten path, further upcountry are some outstandingly beautiful lakes that offer camping, boating out to private lakes, fishing and hiking. Check out Lake Alpine, Union, Utica and Spicer.
Once you've decided between high country or low country, if you're having a hard time deciding which lake to visit first, we certainly wouldn't blame you! There's a lot to choose from! We've made a detailed list of Calaveras Lakes to consider and enjoy!
Calaveras Top Attractions: 5. History
Whether you're here for fine dining, wine tasting or boutique shopping, you can't deny the charm of these Old West, Gold Rush towns. They're simply charming, and each has its own unique history, ambience and architecture.
In Angels Camp, the history is palpable in the old store fronts, hotel, and even the movie theater. It's like you walked onto the set of a Western, but instead of gun fights and dance hall girls, you'll find friendly wine tasting, eclectic shopping and delicious food. The history's not out of sight though. Mark Twain's influence on the town is found in the posters of store fronts that give little nuggets of interesting information and if you stop in at the Angels Camp Museum & Carriage house, just north of historic downtown, you can find 3-acres of exhibits on Angels Camp's history.
Murphys' tree-lined streets, wine tasting rooms, boutique shops and fine dining don't overpower its historic origins. In fact that's part of the charm of this popular destination town. Here, you'll find plenty of history in the Murphys Hotel and saloon (in continuous operation since the Gold Rush), as well as in all of the fab boutiques, galleries, and restaurants housed in these Victorian era buildings. On Saturday mornings, you can even take a free, guided tour of the history of Murphys, courtesy of the Murphys Old Timers Museum. Learn more about Murphys' history.
Heading north on 49 (named for the Gold Rush 1849ers), you'll come to San Andreas. Don't overlook the history sprinkled through this small town! Rather than zipping by, make sure to turn East on Main Street to get to the historic heart of San Andreas, which feels worlds away from the rest of town. Find a spot to park so you can tour the old courthouse, jail and museum with its displays on Black Bart, the gentleman bandit (also home to the Calaveras County archives).
If you have time, we also recommend visiting the San Andreas Red Barn Museum, just outside of downtown, which features a collection of antique machinery and agricultural artifacts. Once you're back on highway 49, make sure to check out the notable buildings along the way, including the Robin's Nest B&B on the west side of the highway, which features a very pretty, Queen Anne style of architecture, and the Thorne Mansion on the east side, which is a more imposing, brick building. Learn more about San Andreas history.
Continuing further North on Highway 49, you won't want to miss Mokelumne Hill – our westernmost historic town and the former county seat. Featuring  historic Hotel Leger, Renegade Winery and restaurant, with outdoor dining and live music, art galleries, some boutique shops, and an adorable little park and you'll see why this town packs so much historic charm into such a small space.
We recently brought a professional photographer here and she went wild for all of the historic details–doorways and more. That might sound a bit niche, but there's plenty more to enjoy. One of our favorite aspects of this sweet town is that the library's porch right on main street includes an outdoor second-hand book store on the honor system. You can set yourself down on the porch, make yourself cozy and read from a wide selection of books before choosing your purchase.
This is also the site of the Mokelumne History Society, featuring an amazing photography collection by Edith Ervine, a local school teacher who lived in the area in the late 1800s and early 1900s. A gifted amateur photographer, she managed to capture some fascinating imagery of the area in those times. But what she's best known for, is being on the spot just after the Great San Francisco Earthquake in 1906 and capturing some of the most iconic photos of the aftermath.
The most iconic landmark in all of Mokelumne Hill has got to be the historic Hotel Leger. In operation since the 1800s and the heart of the town, this iconic historic landmark is a sight to behold–and rumored to be haunted. It has a fabulous old saloon and restaurant, backyard patio, pool, live music and more. As for the ghosts, you'll have to decide for yourself.
Calaveras Top Attractions: 6. Wine
Last, but certainly not least, we have some seriously good wine. Lauded as a snob-free wine tasting zone, as part of the up-and-coming Sierra Foothills wine region, that snob-free title doesn't stop Calaveras vintners from producing some of the best wines in California. But don't take our word for it. Read what Forbes had to say in their 2016 article: Calaveras: The New Pulse of California Wine Country. Check out the full list of all of our Calaveras wineries here. While many tasting rooms and wineries can be found in downtown Murphys, look a little closer, and you'll find vineyards and tasting rooms sprinkled throughout Calaveras County.