Looking for new ways to enjoy family snow days? From adrenaline pumping adventures to gentle forays into a winter wonderland, Bear Valley and the snowy Calaveras County High Sierra corridor have got you covered. Read on for some of our favorite ways to enjoy the snow in and near Calaveras County along the Ebbetts Pass National Scenic Byway during your next snow day adventure.
1.
Enjoy Snow in Calaveras County –
Snowshoe
Looking to take in the sights and sounds of winter at a gentler pace? As the saying goes, if you can walk, you can snowshoe. Snowshoeing allows you to extend your hiking and jogging through the snowy season, with the addition of specialized snowshoes.
Not only are snowshoe adventures accessible to a wider audience, snowshoe adventures are also a great way to see winter wildlife. Moving at a gentle pace allows you to see a side of winter often missed by those zipping through the snow filled landscape.
Places to Snowshoe in Calaveras County
From snowshoeing through giant sequoia groves at Calaveras Big Trees State Park, to exploring groomed trails in Bear Valley, to breaking trails among Stanislaus National Forest roads, each snowshoe location is situated within easy driving distance for visiting multiple destinations within the same day.
2. Enjoy Snow in Calaveras County –

Fat Bike
Looking for something you've never done before? Why not hop on a fat bike this winter? What's a fat bike, you say? A fat bike is an off-road bicycle with oversized tires designed for low ground pressure. This low ground pressure allows fat bikes to traverse  soft, unstable terrain, such as snow. You can rent fat bikes at Bear Valley Cross Country and Adventure Company, or bring your own for your next Calaveras High Sierra adventure.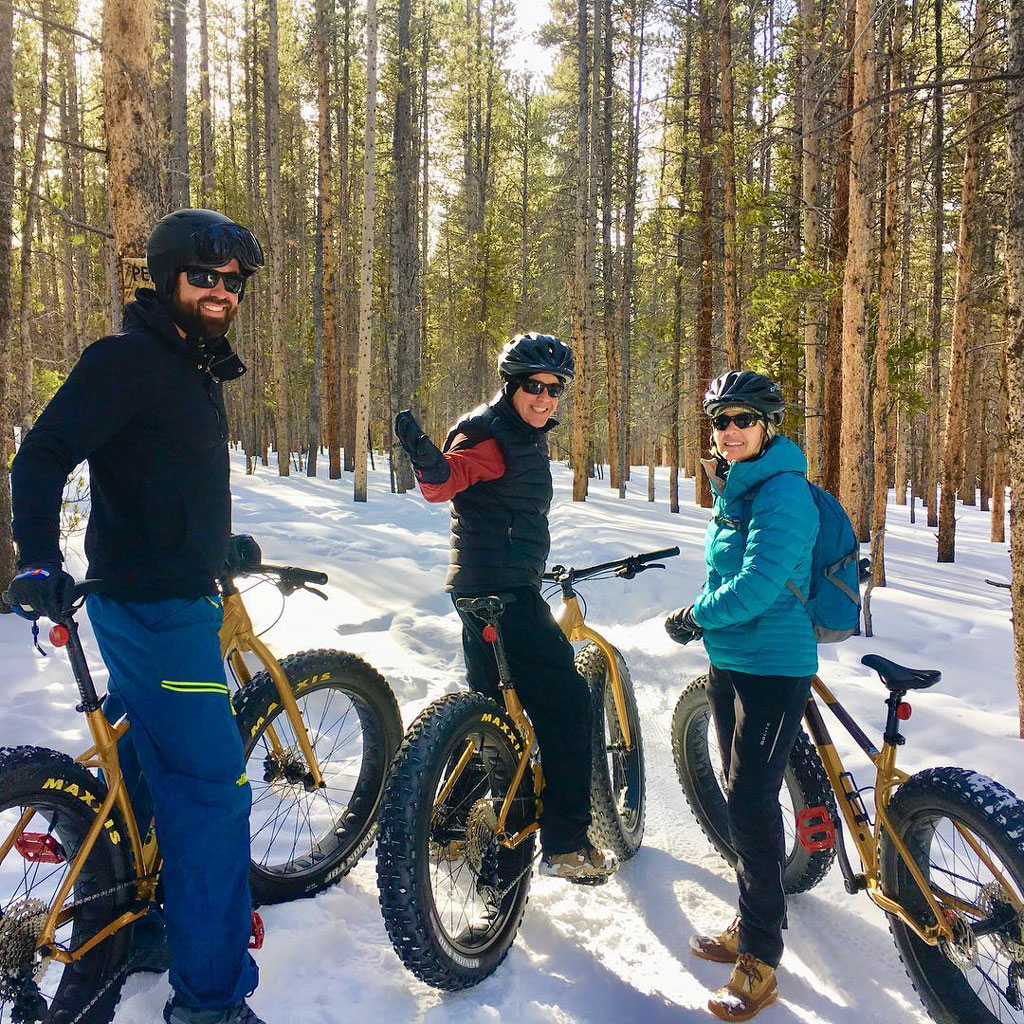 Fat bike trails in the Calaveras County High Sierra Corridor
Arnold Rim Trail

No passes or fees required. The Arnold Rim Trail is a multi-use 17 mile network of hilly trail, weaving through National Forest land and residential territory, keep an eye out for the occasional giant sequoia along the section of trail closest to White Pines Lake.

Bear Valley Adventure Company

Whether you're new to fat-biking or a seasoned fat bike adventurer, you're in luck. Family owned Bear Valley Adventure Company not only provides gear rentals and but it is also a year-round mountain resort with one of the largest groomed fatbike areas in California. That's right. With 35 trails for 40 miles (65 kilometers) of groomed track and skating lanes, you can enjoy a new adventure each winter weekend.

National Forest Service Road

s
3.

Enjoy Snow in Calaveras County –

Ski and/or Snowboard

 
What makes Bear Valley so special? Bear Valley Resort is the place to be for some epic skiing or snowboarding.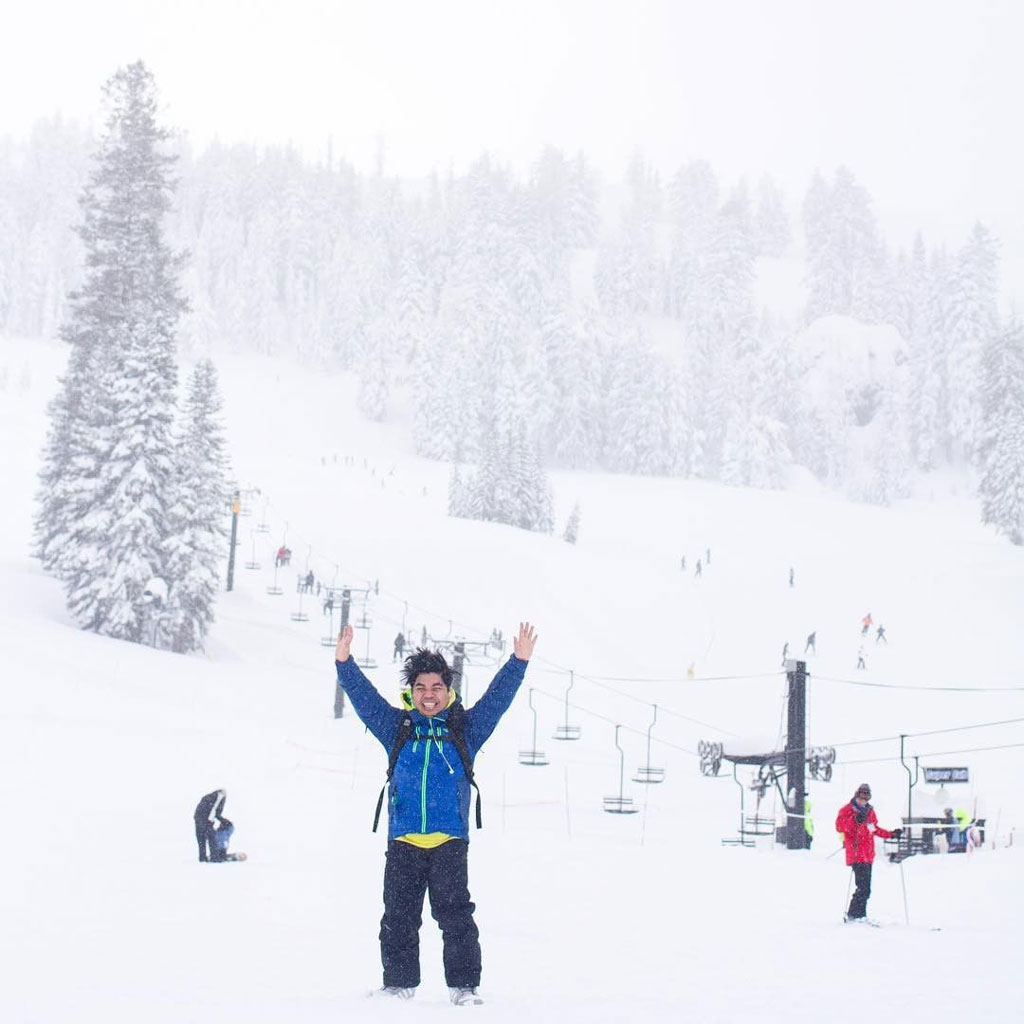 Bear Valley Resort offers a total of ten lifts and 75+ trails across 1680 ski-able acres and a 1900′ vertical drop. But that's not all–25% of Bear Valley's trails are beginner difficulty, 40% are intermediate and 35% are advanced or higher. This makes Bear Valley Resort the perfect place to bring friends or family members who are at different confidence levels and skill sets, so everyone can have a great time.
Looking for ski or snowboarding lessons? Bear Valley Resort offers ski lessons for adults and kids. For discounted lesson rates, book your lesson in advance. Looking to save even more? Rather than purchase gear before your lesson, try equipment rentals in Calaveras first to see what you like before you buy. Scroll to the bottom of this page to find snow gear rentals. Haven't been to Bear Valley Resort? You're in luck! Enjoy this free guide for Bear Valley Resort first time visitors. Check current Bear Valley weather and snow conditions here.
4. Enjoy Snow in Calaveras County –

Get Cozy
Who said enjoying winter snow had to mean working up a sweat? Sometimes it's nice to enjoy a wintry view without all the work.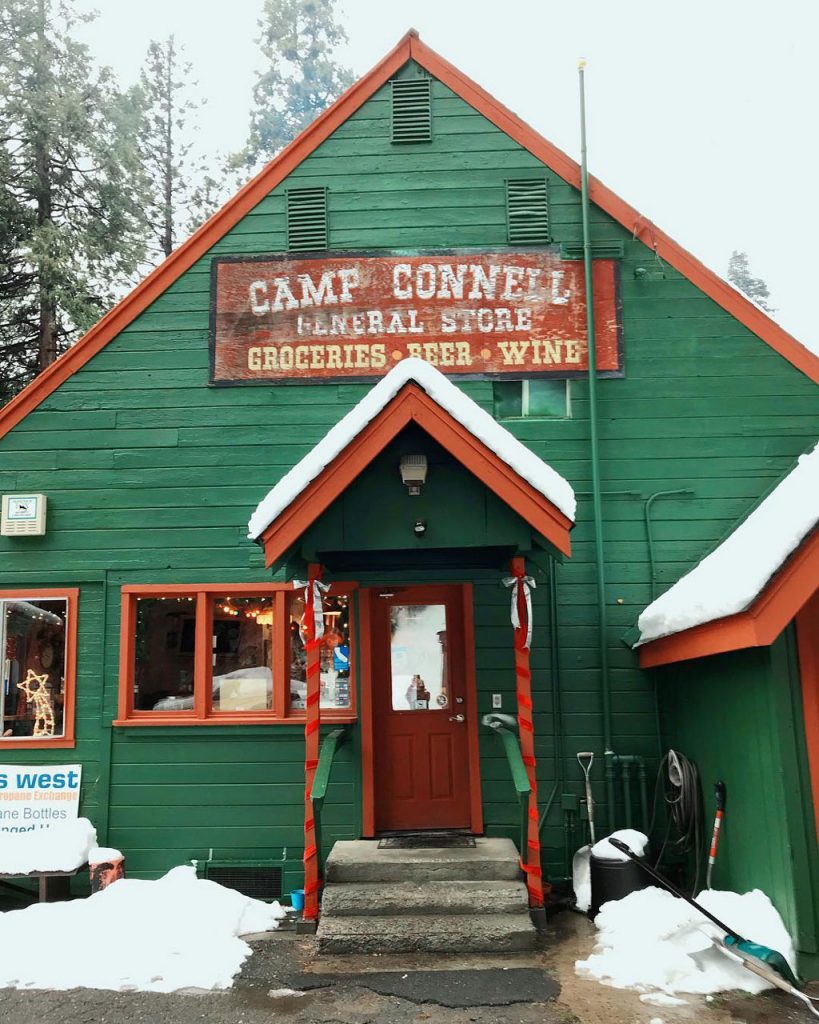 Want to know our favorite way to enjoy the snow-capped views while taking it easy? We recommend cozying into some warm and comfy clothes, grab your favorite eats and drink of choice, and a good book, before pulling up a seat by one of these lovely snowy scenes.
Some of our favorite places to enjoy a view:
Arnold Area I Calaveras Big Trees Visitor Center and warming hut I Camp Connell General Store I Dorrington's Lube Room Saloon I Bistro Espresso I Bear Valley and Upper Highway 4 I Arnold Black Bear Inn I Tamarack Lodge
5. Enjoy Snow in Calaveras County –

Snowmobile
Looking for an outdoor activity to enjoy with the whole family? Snowmobiling is loved by everyone from kids, to teens, to parents, and grandparents.  Unlike a lot of other snow sports, snowmobiling can be enjoyed by everyone regardless of fitness level. So why not get those engines revving and head out into the great unknown? At Bear Valley Snowmobile, you can enjoy scenic views of Lake Alpine, Spicer Reservoir and many other points of interest along the beautifully groomed trails of Stanislaus National Forest.
Looking to go snowmobiling in the Highway 4 corridor? Bear Valley Snowmobile is the only snowmobile rental operator that has the privilege to rent and patrol snowmobiles in this breathtaking environment. Rent snowmobiles by the hour out of Lake Alpine and Spicer Sno-Park for self-guided tours in the pristine wilderness, along the Ebbetts Pass National Scenic Byway.
Their snowmobiles are staged for you in the USFS Sno-Parks so there is no need to trailer or make unsafe crossings over Hwy 4 from Bear Valley. Kids as young as two can ride their snowmobiles with the help of a five-point harness that attaches them to an adult. For your safety, they have a two snowmobile minimum per rental during your self-guided tour.
If you'd like to bring your own snowmobile, here is a link to the USFS Snow Vehicle Use Map.
6. Enjoy Snow in Calaveras County – 

Sled and/or Tube
Calaveras Big Trees – While playing in the snow among the giant sequoias is a unique experience for the whole family, Calaveras Big Trees State Park offers slopes more suited to smaller sledders,  The park entrance fee of $10 per vehicle will get you into the North Grove, and you are free to explore. The Visitor Center has restrooms and a fabulous selection of interpretive displays and cool Calaveras County gifts as well. Be sure to stop by the warming hut for a cozy fireside chat with their very informative docents.
California State Sno-Parks – Did you know 3 of California's 20 sno-parks are in the Highway 4 corridor? That's a lot of snow play for one tiny destination!  Sno-Parks are designated parking areas for winter recreation, maintained by the State and Forest Service and require a $15 day pass or $40 season pass for parking.  There are three within four miles of Bear Valley: Spicer Sno-Park, Round Valley (on Highway 207 to the ski resort) and Lake Alpine, at the closure of Highway 4 just beyond the ski resort turn off. Lake Alpine Sno-Park is a sure bet for long, fast sledding runs that will appeal to those in your group who are seeking adrenaline fueled thrills. All Sno-Parks have non-flush toilets but no other facilities or concession stands so pack a cooler and hot chocolate thermos for your group.
SNO-PARK Permits
To park at a SNO-PARK, you must purchase a sno-park permit. SNO-PARK permits are $15.00 a day or $40.00 for a season pass.
Purchase SNO-PARK permits in person at the locations below.
Arnold, CA
Bear Valley, CA
Bear Valley Adventure Company – During the winter season, Bear Valley Adventure Company offers both a groomed sledding and a separate groomed tubing area. Both activities have several fun runs, picnic tables, and benches. We recommend these activities for ages 3 and older. Hot food and drinks are available nearby at the Meadow Cafe. These areas are not lift-serviced and required hiking up the hills; we think it's part of the adventure ;-).
White Pines Lake – White Pines Lake near Arnold has some nice slopes far from the highway. Just be sure you don't sled too close to the lake even if it looks completely frozen. Lots of snow in this pretty park means plenty of opportunities for building snowmen and getting your snowball arsenal together for a wild winter battle royale!
7. Enjoy Snow in Calaveras County –
Cross Country Ski
More energy efficient than long distance snowshoeing, cross country skiing is the perfect sport for a variety of interests, allowing you to enjoy quick forays into the woods for an afternoon outing or for those with a little more time available and a sense of adventure, you can venture so deep into a magical winter wilderness you may encounter regions more wild than known. Interested? You've come to the right place.
Looking for cross country ski lessons? Cross country ski lessons and gear rentals are available at Bear Valley Adventure Company here.
The Calaveras County High Sierra corridor is home to hundreds of miles of cross country fun.  From groomed cross country trails at one of the largest cross country ski areas in California, to three local SNO-PARKS, and ungroomed trails accessed along Forest Service roads, there are enough cross country skiing trails to have a new adventure every winter weekend.
Looking to get fit for 2023? Cross-country skiing is an excellent aerobic workout, and because no single muscle group is overstressed, the activity can be sustained for hours on end. It's not often we can get fit while taking in breathtaking sights–a great way to spend time alone, with friends, or family.
Places to Cross-Country Ski in the Calaveras County High Sierra Corridor
Snow Gear Rentals and Supplies
Snow Gear Rentals and Supplies – Arnold, CA
 Snow Gear Rentals and Supplies – Bear Valley, CA
Know Before You Go
 Remember to always bring chains for your vehicle in case of extreme weather conditions. The State of California requires all vehicles to carry chains or cables even if it is a 4-wheel drive vehicle in the higher elevations of the Sierra Nevada mountains.
Snow Condition Updates:  For updates on snow conditions along Highway 4 in Calaveras County, go to www.bearvalley.com/mountain/weather/. Go to www.roads.dot.ca.gov for the latest road conditions or give us a call at the Visitors Center at 209-736-0049.
 Wherever you choose to play outdoors, please remember that the Stanislaus National Forest and surrounding areas are home to many species of wild birds and animals that can be seriously harmed by any trash you leave behind. Please pick up after yourself and your family, dress warmly, be safe and have a wonderful time!
To provide a sense of scale, Calaveras Big Trees is located just 30 minutes from Angels Camp, 20 minutes from Murphys, CA, and 10 minutes from Arnold, CA. View forest roads, sno-parks, and more, by clicking "Snowy Destination Map" below.
Remember to pick up your Sno-park permits or purchase one online before heading up the mountain.
Staying below the snowline? Explore fun things to do in towns below the snowline through the town information and directories  Angels Camp I Copperopolis I Mokelumne Hill I Murphys I San Andreas I Valley Springs tri-lake area.