Calaveras outdoor recreation is a year-round adventure. With a four-seasons wilderness destination in the High Sierra, and huge, beautiful, Sierra-fed lakes in the Gold Country region with endless wildlife viewing, fishing, hiking, and biking, Calaveras is a spectacular outdoor recreation destination. As always, when recreating in Calaveras County's beautiful environments, please follow our Hop Lightly guidelines to help keep these wildlife habitats healthy, and keep yourself safe.
Get the full listing of outdoor recreation available in Calaveras County and the upper highway 4 corridor.
Calaveras Outdoor Recreation: Gold Country Region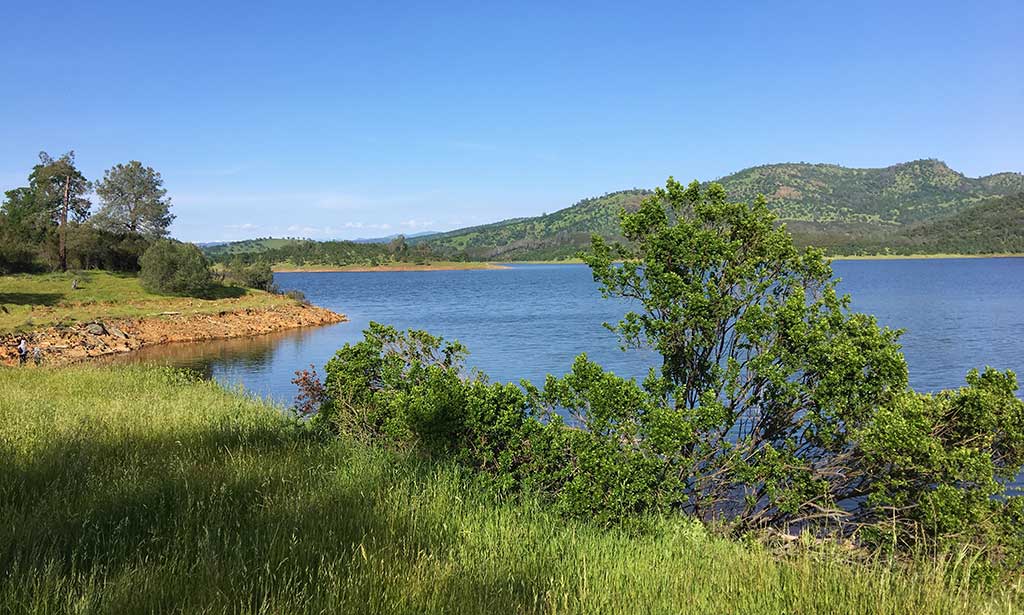 The lower elevation destinations for outdoor recreation include the Tri-Lakes area in Valley Springs, featuring three beautiful reservoirs, each with their own unique recreational opportunities, including hiking and biking trails, wildlife viewing and fishing, and La Contenta, a year-round golf course. Angels Camp with the popular New Melones Lake with its boat and kayak rentals, hiking and biking trails and great fishing and Greenhorn Creek Resort, a beautifully laid out championship golf course, wine tasting cellar, restaurant and bar.
The Vallecito area includes the Natural Bridges Trail and Moaning Cavern Adventure Park with its cave tours, zip lines and climbing tower, while nearby Murphys has another beautiful cave, Mercer Caverns. In the San Andreas area, you'll find the area's third cave, and the largest cave system in California, California Cavern State Historic Landmark offering tours and wild expeditions and in the Mokelumne Hill area, outdoor recreation is dominated by the scenic Mokelumne River. See complete listings of all the outdoor recreation available in Calaveras and beyond.
These lower elevations are also home to 5 golf courses. Check out our Calaveras Golf and Adventure travel itinerary for great trip ideas.
Calaveras Outdoor Recreation: High Sierra Region
The High Sierra region begins in Arnold and continues eastward climbing in elevation from 4,000 feet to over 7,000 feet – with much of this area part of the Stanislaus National Forest. In the Arnold area, popular outdoor recreation attractions include pretty White Pines Lake for kayaking, fishing and swimming, the beautiful 17-mile Arnold Rim Trail and spectacular Calaveras Big Trees State Park, featuring the first giant sequoias discovered by non-Native Americans. Two trail systems, the north and south, offer close-up views of these majestic trees.
The Bear Valley & Upper Highway 4 area features plenty of wilderness recreation opportunities, high country reservoirs like Spicer, Union, Utica and Alpines Lakes to kayak, fish and swim, Bear Valley Mountain ski resort (which offers fantastic summer recreation and even glamping too), bouldering, mountain climbing, snowmobiling for miles without a guide, and gorgeous hiking and biking. The upper end of the Mokelumne Coast to Crest Trail comes through here, as does the Pacific Crest Trail. And you also have access to the Mokelumne Wilderness and Carson Iceberg Wilderness in summer.
If you have any kind of unexpected health problems or emergency care needs, we have three facilities here locally for your use.